Press Statement
Media and journalists under threat as Pakistan's election looms
19 Jul, 2018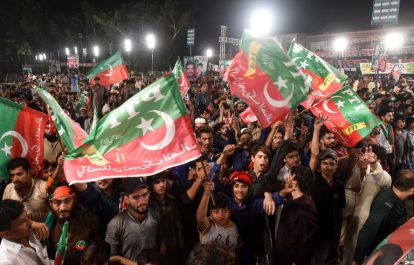 Pakistan's media and journalists are facing unprecedented pressure and intimidation ahead of the General Election 2018 scheduled for July 25.
The International Federation of Journalists (IFJ) is seriously concerned by the incidents of pressure, intimidation and threat against media and journalists ahead of the general election in Pakistan; and urges the government to ensure freedom of the media and safety of journalists for the success of the democratic election.
Journalist Kadafi Zaman of Norway's TV 2 was arrested and beaten by police while covering a political rally on July 13 in Gujrat city of Punjab province despite informing the police that he was a journalist. He was released on July 16 on bail but faces criminal charges including attempted murder, tearing a police uniform, snatching four mobile telephones from the police, and interference in government function.
The Pakistan Federal Union of Journalists (PFUJ) on July 5 launched the 'Press Freedom Movement', following reports of journalists facing censorship pressures and intimidation, as well as disruptions to the distribution of the Dawn newspaper in several parts of the country. Disruptions to the circulation of Dawn, Pakistan's oldest daily newspaper, began in mid-May, after publishing an interview of former PM Nawaz Sharif criticizing the military.
On June 21, the Lahore home of prominent journalist, analyst and Daily Times' correspondent Marvi Sirmed was ransacked when the family was on a holiday. Two laptops, a smartphone, and passports among other travel documents were taken while the valuable jewelry was left behind.
After threats against the media were made public, Pakistan's military spokesman General Asif Ghafoor, in a press conference in June, claimed that journalist Matiullah Jan and a handful of other journalists and bloggers were anti-state and anti-military.
The IFJ said: "The IFJ is seriously concerned about the freedom of the press and the safety of the journalists during the General Elections in Pakistan, scheduled for July 25. The high level of pressure and intimidation being experienced by the media and journalists in the buildup of the election is threatening the press freedom and fair election. The IFJ urges the Pakistan government to take every measure to ensure safety of journalists and environment for free and independent journalism."
Photo: Supporters of Imran Khan head of the Pakistan Tehreek-e-Insaf (PTI) gather at his political campaign rally in Lahore on July 18, 2018. Pakistan will hold a general election on July 25, and the lead up to the election has been marred with violence. Credit: ARIF ALI/AFP
Comments