Press Statement
Media's #MeToo Moment
02 May, 2018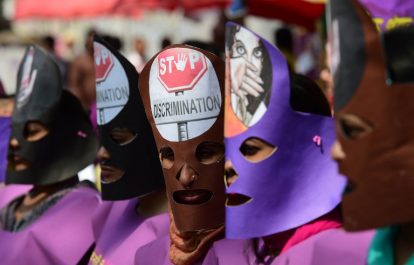 The International Federation of Journalists (IFJ) and the South Asia Media Solidarity Network (SAMSN) urged the media managements, journalist unions and associations to proactively make media workplaces safer for woman journalists in the wake of the global conversation around sexual harassment at work.
The IFJ and the SAMSN stand firmly with women journalists in South Asia who are no longer willing to quietly accept sexual harassment at work. This special capsule report Media's #MeToo Moment shines the spotlight on sexual harassment at media workplaces, ahead of the release of the 16th edition of the annual press freedom report: Clampdowns and Courage: Press Freedom in South Asia 2017-18. which will be launched on May 3 to mark the World Press Freedom Day.
As more and more women share their painful stories of exploitation and misuse of power using the #MeToo hashtag following the revelations of sexual harassment in the entertainment industry in the US and the academia in India, it is clear that women journalists too are fighting back and calling out men who harass, no matter how mighty their positions or power.
The IFJ said: "Although three countries in South Asia – India, Pakistan and Nepal, have specific civil laws to combat sexual harassment there is the widespread frustration with laws and the inadequacy of due process, and the pursuit of justice heavily laden against women. There must be institutional change as well as a shift in patriarchal mind-sets, in order to redress rampant sexual harassment in media workplaces."
India's Sexual Harassment of Women at Workplace (Prevention and Redressal) Act, 2013; Pakistan's Protection Against Harassment of Women at the Workplace Act, 2010 and Nepal's Sexual Harassment at Workplace Prevention Act, 2015 add to the already existing provisions in criminal codes. Clampdowns and Courage notes that the specific nature of workplace harassment, with rigid office hierarchies and control by mostly-male bosses over assignments, promotions and leave, needed to be tackled through multi-pronged strategies.
The annual press freedom report looks at the impact of the international #MeToo movement on debate and awareness in media and media workplaces in South Asia through an array of women journalists' perspectives and experiences of sexual harassment at work.
The report, supported by UNESCO and the Norwegian Ministry of Foreign Affairs, details threats, violations and attacks on the media in the year up to World Press Freedom Day according to UNESCO's Journalists Safety Indicators. The report is also a key tool for advocacy on issues such as press freedom, impunity and gender equity in the media in South Asia.
The IFJ said: "There should be zero-tolerance of sexual harassment at work, and mechanisms should be established in workplaces as well as at the regional and national levels to ensure that acts of sexual harassment are recorded and prosecuted speedily and effectively. The IFJ calls on all media managements, journalist unions and associations to take a proactive role in making media workplaces conducive for women journalists to carry out their professional duties free from harassment."
Download the capsule report here.
The full South Asia Press Freedom Report 2017-18 will be available from the SAMSN Digital Hub from May 3, 2018.
Written By

IFJ Asia-Pacific
The IFJ represents more than 600,000 journalists in 140 countries.
For further information contact IFJ Asia-Pacific on +61 2 9333 0946
Find the IFJ on Twitter: @ifjasiapacific
Find the IFJ on Facebook: www.facebook.com/IFJAsiaPacific
Comments