Activities
Nawaz Sharif #whatareyoudoing? – IFJ/SAMSN call on leader for action
05 Nov, 2014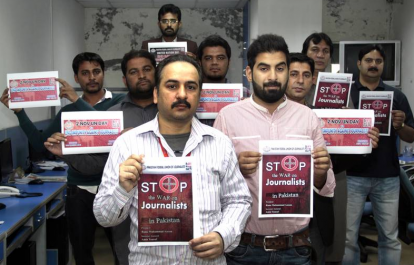 The International Federation of Journalists (IFJ) expresses solidarity with its affiliate the Pakistan Federal Union of Journalists (PFUJ) in their call to end the impunity and defend press freedom and has begun a month long campaign to push Pakistan's leaders into action against impunity for crimes against journalists.
A delegation led by PFUJ former president Pervaiz Shaukat handed over an open letter from the IFJ and the South Asia Media Solidarity Network (SAMSN) to the Prime Minister's Secretariat and the United Nations in Pakistan on Sunday, November 2 – the inaugural International Day to End Impunity for Crimes Against Journalists. The IFJ and SAMSN as well as a list of international activists and organisations, wrote to Pakistan's Prime Minister, Nawaz Sharif, calling on him to recognise November 2 as a National Day Against Impunity in Pakistan and to make concerted efforts to bring to an end to the country's entrenched culture of impunity for journalist killings.
The PFUJ and its affiliates across Pakistan also held rallies, awareness lectures, and candle vigils in Lahore, Karachi, Islamabad, Peshawar, Quetta, Hyderabad, DG Khan, Bahawalpur, Multan, Faisalabad, Gujranwala, Hafizabad, Gujrat and Abbottabad.
The PFUJ also marked November 3 as a day to condemn the illegitimate act of imposing emergency rule under former military ruler General Pervez Musharraf and reiterated its pledge to defend the independence of media and democracy in future.
Over the past decade, Pakistan has consistently been ranked one of the most dangerous places on the planet to practice journalism. The targeting of journalists, including verbal and written threats, physical attacks, kidnappings and killings have been alarmingly high in Pakistan. The United Nations has listed Pakistan as a country needing special attention and supportive action to combat impunity against journalists, when it was included among the five pilot countries for implementation of its 'UN Action Plan on Attacks on Journalists and Issues of Impunity.
See the IFJ's infographic on Pakistan here.
The PFUJ said: "We will keep on raising voice against the crimes and unjust done with the journalists and put pressure on the government to end impunity against the journalists of the country and make efforts to provide a safe atmosphere to work and enjoy freedom of expression in the country."
This year, 13 journalists and media workers have been killed in Pakistan and many more threatened, intimidated and attacked. Nearly 60 journalists have been killed in the last six years and more than 100 since 2000.
The IFJ Asia Pacific acting director Jane Worthington said: "Pakistan is the most dangerous country in the world right now for journalists and the situation has undoubtedly worsened due to high level of impunity for crimes against media workers. Pakistan must respond to global calls and make immediate efforts to bring an end to the culture of impunity that leaves so many media workers exposed and in doing so threatens the future integrity of a free and independent media."
See the IFJ's "22 Days – 22 Stories" impunity campaign here.
Written By

IFJ Asia-Pacific
The IFJ represents more than 600,000 journalists in 140 countries.
For further information contact IFJ Asia-Pacific on +61 2 9333 0946
Find the IFJ on Twitter: @ifjasiapacific
Find the IFJ on Facebook: www.facebook.com/IFJAsiaPacific
Comments