India
Neha Dixit: "Sexually Explicit Abuses Land in my Inbox"
08 Mar, 2017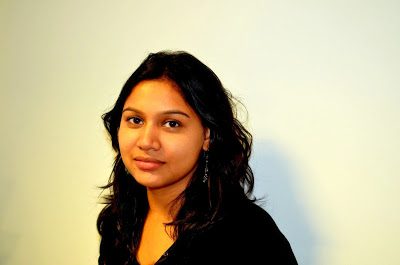 In this extract from her hard-hitting speech* delivered while accepting the Chameli Devi Award for Outstanding Woman Journalist for 2016, Neha Dixit describes how she has been harassed by trolls over the years.
After being called 'antinational' for months on end, it is nice to receive an award that is named after a freedom fighter! On July 29, last year, I published an investigative story in Outlook magazine called 'Operation #Beti Uthao (Babylift),' that exposed how 31 tribal girls, between three and eleven years of age, from five border districts of Assam in Northeast India, were illegally taken to Punjab and Gujarat by three outfits affiliated to the right-wing Rashtriya Swayam Sevak (RSS). The episode was officially termed "child trafficking".
Not only did the RSS and ruling Bharatiya Janata Party (BJP) members indulge in mudslinging, name-calling and speaking about my "depraved mind", a few BJP members had registered a police complaint against me, and the editor and publisher of Outlook magazine for "inciting communal hatred amongst communities" by selectively quoting the concluding paragraph of my story.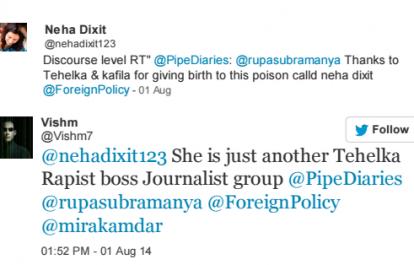 Within a week of the reporting of the story and the subsequent media reports about the case filed against me and Outlook, the actual issue of the girls being trafficked was submerged in debates about my credentials as a reporter, my character and my 'intentions' behind doing the story and the reasons behind Outlook publishing it. Soon after, the Outlook editor, Krishna Prasad, was replaced by the magazine's publishers without any public explanation.
No woman writer, journalist or artist is untouched by such attacks by online trolls. In the past, I have had dedicated forums strategising about how I should be beaten "black and blue" when I reported on Khap panchayats. I have also received rape threats, often describing how thorny sticks or sharp metal rods should be shoved inside my private parts when I wrote about bride trafficking in North India. When I reported on 'love jihad', I was called a "member of Lashkar-e-Taiba", and when I wrote about Hindutva-driven nationalism, I was called a "concubine of Rahul Gandhi". Sexually explicit abuses and pictures of human private parts often land up in my inbox. When this is the response for a watertight story, it can be unnerving for a reporter. Trolling can, in many cases, intimidate reporters enough to shut them up.


Earlier, journalists could stand by their stories and present facts when they had their day in court. Now, these legal notices have been replaced by a paid troll army. Every morning, a few self-proclaimed intellectuals, columnists and writers identify a few anti-government articles and pick on them systematically. All of them have a colossal number of followers, sometimes running into several thousand. These followers then abuse and troll writers who have taken on the establishment by writing about their wrong-doings.

If it is a woman, the task of online trolls becomes even easier. All they have to do is question her intention, agency, intellect and her character. That way, they not just affect the morale of the writer who then resorts to self-censorship but also promote an abysmal quality of public discourse that relies more on mob justice than intellectual or legal arguments. Any dissent in the social space is reduced to binaries and juvenile name-calling. In this space, all progressive, secular liberals are either "anti-national" or "Commie Naxals" and all those with right-wing political leanings are "Sanghis" or "bhakts".

There is an increasing attrition of independent spaces that are devoid of these tags and baggage that allow people from diverse political and intellectual leanings to brainstorm, ideate, report, argue and debate.
* Watch the video of the prize here. Neha Dixit's speech starts at 0:10:40 and ends at 0:20:40.
Neha Dixit is an independent journalist based in New Delhi. She covers politics, gender and social justice in South Asia. She is the recipient of several awards including the Anupama Jayaraman Memorial Award for Young Women Journalists 2009 , the Thomson Foundation-Foreign Press Association Young Journalist Award 2013 , the News Television Award for Best Investigative Feature 2010-2011, the PII-ICRC Award for Best report on Humanitarian Subject 2015 and the Kurt Schork Award in International Journalism 2014.
Written By
Comments