Press Statement
Nepal: DNA test confirms death of missing journalist Tej Bahadur Khadka
06 Jul, 2020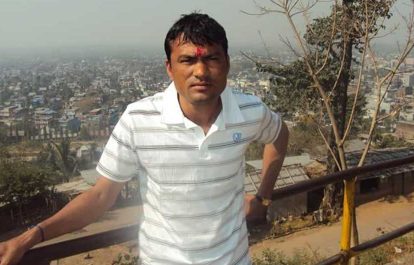 A DNA test confirmed a body found in November 2019 matched that of Tej Bahadur Khadka, a Bajura-based Radio Budhinanda journalist who went missing on August 27, 2018. The International Federation of Journalists and its affiliate the Federation of Nepali Journalist (FNJ) and the Nepal Press Union (NPU) urge an investigation into Tej Bahadur Khadka's disappearance and death.
The Nepal police's Forensic Science Laboratory on June 30 reported the DNA test of a skeleton discovered in the Kalte area in Bajura district matched that of Khadka, who worked for the state-owned radio broadcaster, Radio Nepal. Khadka was also the first chairperson of Nepal Press Union Doti and a member of the Federation of Nepal Journalists Doti chapter.
Khadka's body was found with his identity card, drivers license, clothing and the bag he disappeared with. According to FNJ, Khadka went missing during his return home from Budinanda, a local pilgrimage.
FNJ and NPU have advocated for police to uncover the truth behind Tej Bahadur Khaka's disappearance. On July 3, NPU district chapters from province 7 submitted a petition to the province's chief minister Trilochan Bhattarai calling on him to launch an investigation into Tej Bahadur Khadka's death.
FNJ general secretary Ramesh Bista said: "The sudden disappearance of journalist Khadka and discovery of his skeleton along with Khadka's credentials after 15 months of the disappearance makes this case 'mysterious'." FNJ urges the Nepali government to investigate the incident and compensate Khadka's family.
NPU general secretary Ajaya Babu Shiwakoti said: "Finding Khadka's credentials intact along with the skeleton after 15 months of disappearance is dubious." NPU urges the government of Nepal to take the case seriously and conduct an investigation.
IFJ general secretary Anthony Bellanger said: "This is an absolute tragedy and it is devastating it has taken so long for his identity to be confirmed. The IFJ extend condolences to Khadka's family and his colleagues who have fought hard for justice and a thorough investigation."
Written By

IFJ Asia-Pacific
The IFJ represents more than 600,000 journalists in 140 countries.
For further information contact IFJ Asia-Pacific on +61 2 9333 0946
Find the IFJ on Twitter: @ifjasiapacific
Find the IFJ on Facebook: www.facebook.com/IFJAsiaPacific
Comments