Press Statement
Nepal: Journalist and union leader threatened for reporting
04 Oct, 2019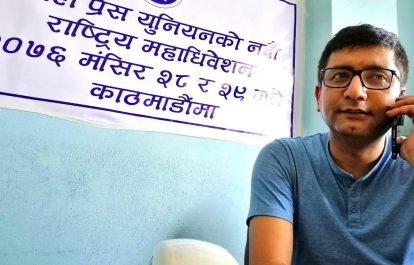 Nepali journalist and union leader Ajaya Babu Shiwakoti has been the subject of a campaign of threats and surveillance since publishing an article on an alleged rape by Nepal's Speaker in Parliament. The International Federation of Journalists (IFJ) and its affiliate, the Nepal Press Union (NPU) remain deeply concerned for Shiwakoti's safety and call on authorities to immediately ensure his protection.
Shiwakoti's website, Hamra Kura, published an exclusive report on September 30 on the alleged rape of a female employee of Nepal's Federal Parliament by Speaker Krishna Bahadur Mahara. After Shiwakoti article, Krishna Bahadur Mahara was forced to stepped down as House Speaker.
NPU said Shiwakoti had received threats from various unknown numbers and groups were "tracking his movements". He also received information that groups were planning to vandalise his office and assault him.
A spokesperson from Metropolitan Police, Hobendra Bogati, stated police were verbally informed of the threats to the journalist, but no written complaint was yet filed.
NPU is demanding police and government ensure Shiwakoti is safe and free to be a journalist without harassment, threat or intimidation.
The threats to Ajaya Babu Shiwakoti after reporting on a politician undermined the public's ability to hold politicians accountable, it said.
NPU said: "The fundamental right of freedom of press and expression is enshrined in Nepal's constitution and is necessary to build a conducive environment to publish and broadcast news freely, fairly and without fear."
IFJ joins NPU in strongly demanding police and the government bring forward any person or groups that have been following, issuing threats and conducting surveillance on Shiwakoti.
The IFJ said: "We echo the words of the NPU. The IFJ stands in solidarity with Ajaya Babu Shiwakoti and the NPU in their fight for press freedom in Nepal. Freedom of expression and press freedom is a key democratic value that must be protected at all costs. We urge the authorities to prioritise journalists' safety and respond to the threats made against Mr Shiwakoti immediately."
Written By

IFJ Asia-Pacific
The IFJ represents more than 600,000 journalists in 140 countries.
For further information contact IFJ Asia-Pacific on +61 2 9333 0946
Find the IFJ on Twitter: @ifjasiapacific
Find the IFJ on Facebook: www.facebook.com/IFJAsiaPacific
Comments