Press Statement
Nepal: Journalist attacked by thugs
12 May, 2020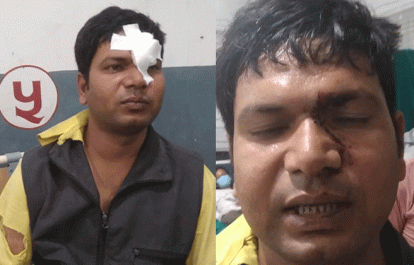 Journalist Pawan Yadav was attacked by thugs in Bara district after on May 10, 2020. The International Federation of Journalists (IFJ) and its Nepal affiliate, the Nepal Press Union (NPU), condemn the attack and call on  authorities to punish the guilty.
Yadav, a journalist with Terai Madhesh daily was punched and kicked by a group of young thugs in Kalaiya, Hanuman Mandir after he tried to stop them abusing a priest in the temple. "While I was returning my home in Uttarjitgaiya from the office at around 8:30 pm, I saw a gang misbehaving and insulting a priest, and I tried to stop them from misbehaving. To my surprise, they attacked me", Yadav said to IFJ. Yadav received serious injury on his face.
The attackers also broke Yadav's camera and laptop. Locals rescued the journalist from further attacks and took him to Kalaiya hospital. He was discharged the same night.
Following the incident, Yadav filed case to the District Police office Bara on May 11. The police are still searching for the young attackers.
Attacks on journalists and media rights violations are on rise in Nepal, particularly during the Covid-19 lockdown. Since the lockdown began in March 24, FNJ has recorded a total of 20 cases of media rights violations.
NPU said: "The incident is a symbol of the increased impunity for crimes against journalists in Nepal. NPU calls on fair investigation, for the guilty to be punished and for compensation for the destroyed laptop and mobile phone."
 IFJ said: "IFJ is always concerned about attacks on journalists and urges authorities to conduct a transparent and fair investigation into these appalling attacks on Pawan Yadav. Impunity is not an option."
Written By

IFJ Asia-Pacific
The IFJ represents more than 600,000 journalists in 140 countries.
For further information contact IFJ Asia-Pacific on +61 2 9333 0946
Find the IFJ on Twitter: @ifjasiapacific
Find the IFJ on Facebook: www.facebook.com/IFJAsiaPacific
Comments