Press Statement
Nepal: Journalist threatened for reporting bribe- negotiation
04 Mar, 2020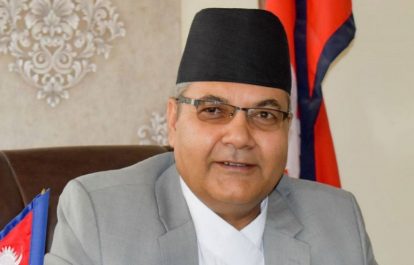 Ajayababu Shiwakoti, the general secretary of the Nepal Press Union (NPU), received threats for his reporting on an alleged bribery scandal involving Nepal's minister of communications and information technology. The International Federation of Journalists (IFJ) and its affiliates the Nepal Press Union (NPU) and the Federation of Nepali Journalists (FJN) call on authorities to immediately ensure Shiwakoti's safety. 
Shiwakoti is the editor in chief of  www.hamrakura.com, which published a story on February 20, linking an audio recording alleged to be that of the minister, Gokul Prasad Baskota, negotiating with Bijay Prakash Mishra, a Nepal agent of a Swiss equipment supplier on the printing of passports and other sensitive material. The recording suggested the minister would receive NPR 700,000,000 (USD 6,000,000) commission for the deal.  Following the release of the two-and-a-half-minute audio recording and subsequent news coverage, the minister resigned from his post on February 21.
After Shiwakoti's reporting on the ministerial scandal, NPU said unidentified persons had put the journalist's residence and his activities under surveillance. The journalist also said he received indirect threats from social media and, as a result, was "cautious" and "semi-underground".
Shiwakoti previously received threats on September 30, 2019, after publishing a report alleging a female member of the parliamentary staff was sexually harassed by the then house-speaker, Krishna Bahadur Mahara, who later resigned from his post.
Journalists in Nepal express serious concern to the security situation of Shiwakoti.
NPU said: "Such a threat to an investigative journalist who is committed to make the authorities accountable is really pathetic. We demand the government of Nepal and concerned stakeholders to ensure constitutionally-enshrined press freedoms and urge it to create a more conducive environment for the practice of independent journalism."
The IFJ said: "We urge threats to Shiwakoti to be taken with the seriousness they deserve and for a response from Nepal's government to underline its commitment to press freedom and to show the necessary support for protecting journalists in Nepal."
Written By

IFJ Asia-Pacific
The IFJ represents more than 600,000 journalists in 140 countries.
For further information contact IFJ Asia-Pacific on +61 2 9333 0946
Find the IFJ on Twitter: @ifjasiapacific
Find the IFJ on Facebook: www.facebook.com/IFJAsiaPacific
Comments