Press Statement
Nepal reintroduces restrictive online media directives
28 Mar, 2017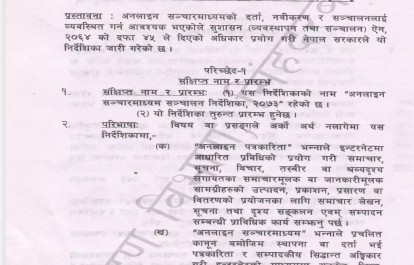 The International Federation of Journalists (IFJ) joins its affiliates the Federation of Nepali Journalists (FNJ) and the Nepal Press Union (NPU) in expressing serious concern over the issuing of the revised Online Media Directives by the Nepal Government on March 20, 2017. The IFJ demands immediate withdrawal of the Directives.
The Directives, a revised form of an earlier version, were published in the Nepal Gazette without consultations with stakeholders. It is restrictive in nature and gives arbitrary powers to the Department of Information to restrict and harass online media, thus threatening freedom of expression and press freedom.
The FNJ has questioned the intention of the government in issuing the directives at the critical time of the municipal elections, ignoring recommendations of the committee formed to review the earlier version of the directives that drew widespread criticism.
FNJ General Secretary Ujir Magar in a statement said: "The FNJ demands immediate withdrawal of the Online Media Directives as it restricts the role of online media and press freedom. The FNJ urges the government to initiate the process of a new law in the Parliament by considering the constitutional provisions regarding the press and technical aspects of online media." The FNJ has warned of agitation if the Directives are not withdrawn immediately.
The NPU said that the Directives under the good governance law do not conform to international standards or the constitutional guarantee of press freedom. The NPU has demanded an immediate annulment of the Directives and the initiation of a new process with the participation of all stakeholders to draft a new law.
NPU General Secretary Ajaya Babu Shiwakoti in a statement said: "The Directives contain provisions to obstruct online media without due judicial process, and allow an administrative agency to intervene in the editing and information dissemination process, which clearly restricts the development of online media."
The Online Journalists Association of Nepal (OJAN) has also condemned the Directives saying that the government sneaked in the Directives without consulting stakeholders and has demanded its immediate withdrawal.
The IFJ said: "The IFJ expresses serious dissatisfaction over the Online Media Directives issued by the Nepal Government which not only go against the principles of press freedom and internet freedom but also hinder the healthy development of online media. The IFJ urges the Nepal Government to immediately withdraw the restrictive Directives and refrain from making policies that hinder press freedom."
Written By

IFJ Asia-Pacific
The IFJ represents more than 600,000 journalists in 140 countries.
For further information contact IFJ Asia-Pacific on +61 2 9333 0946
Find the IFJ on Twitter: @ifjasiapacific
Find the IFJ on Facebook: www.facebook.com/IFJAsiaPacific
Comments