Press Statement
Nepal: Three sentenced to life imprisonment for the murder of Dekendra Raj Thapa
17 Dec, 2021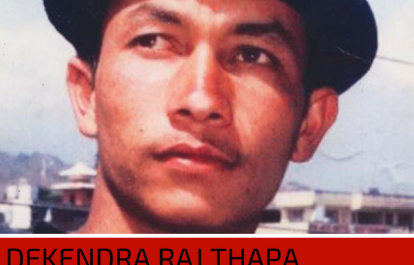 Dailekh District Court has sentenced three people convicted of the murder of Dailekh based journalist, Dekendra Raj Thapa, to life imprisonment. The International Federation of Journalists (IFJ) and its Nepal affiliate, the Federation of Nepali Journalists (FNJ) welcome the court's order and urge Nepali authorities to expedite the justice process of other pending cases.                                     
On December 12, the Dailekh court sentenced Bam Bahadur Khadka (aka. Arun), Keshav Khadka and Bam Bahadur Khadka to life imprisonment, or 20 years, for the murder of journalist Dekendra Raj Thapa 17 years ago. District Judge Dandapani Lamichhane also jailed Bhakti Ram Lamichhane for three years, for assisting the murderers in concealing the journalist's body.
Killed journalists Dekendra Thapa, a Dailekh district reporter for state broadcaster Radio Nepal, was kidnapped on August 11, 2004, by cadres of the Communist Party of Nepal – Maoist (CPN-M). He was tortured and buried alive in Naumule of the Dailekh district 45 days after his kidnapping.
The investigation into Thapa's death did not begin until the signing of the Comprehensive Peace Agreement (PCA) by the Nepal government and the then rebel CPN-M in November 21, 2006. Following continuous advocacy by the FNJ, Nepal's National Human Rights Commission (NHRC) and the Informal Sector Service Centre (INSEC), Thapa's body was exhumed for DNA testing from Naumule Rural Municipality on July 28, 2008, despite opposition from CPN-M.
On August 28, 2008, Thapa's wife Laxmi Thapa lodged a First Information Report (FIR) at Dailekh police station seeking justice for the murder of her husband. The case was halted for a few days in January, 2013, after then Attorney General, Mukti Pradhan, instructed local police and prosecutors not to take the case forward. The case was recommenced on January 16, 2013, when the Supreme Court ordered the then Prime Minister, Baburam Bhattarai, and then Attorney General Pradhan not to intervene the matter.
On December 7, 2014, the Dailekh District Court ordered the arrest of nine suspects for their involvement in Thapa's murder. Six of the nine accused, Laxi Ram Gharti Magar, Bir Bahadur KC, Nirak Bahadur Gharti Magar, Harilal Pun Magar and Jay Bahadur Shahi,had already been in custody since January 1, 2013, while the remaining three absconded.
More than 35 journalists were killed during Nepal's 10 yearlong Maoist insurgency period, between 1996 and 2006.
FNJ president, Bipul Pokhrel, said: "FNJ is relieved to hear that journalist Dekendra Thapa's murderers have been held accountable for their crime. This judgement is an important step towards ending impunity on crime against journalists. We hope it will set a clear precedent for the arbitration of crimes perpetrated against journalists." 
The IFJ said: "The court's verdict in Thapa's case is a promising step towards addressing the long-entrenched issue of impunity for crimes against journalists in Nepal. The IFJ urges the Nepali authorities to continue their investigations and make much needed progress with other cases that have remained unresolved for so long."
Written By

IFJ Asia-Pacific
The IFJ represents more than 600,000 journalists in 140 countries.
For further information contact IFJ Asia-Pacific on +61 2 9333 0946
Find the IFJ on Twitter: @ifjasiapacific
Find the IFJ on Facebook: www.facebook.com/IFJAsiaPacific
Comments