Press Statement
Nepali editor arrested over political reporting
29 Nov, 2018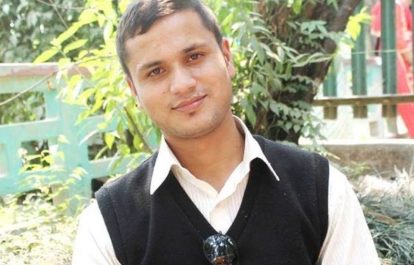 Nepal Police arrested Gopal Chand, the editor of an online news portal postpati.com, on November 27 under a cyber law for publishing news about a co-chairman of the ruling party. The International Federation of Journalists (IFJ) joins its affiliate the Federation of Nepali Journalists (FNJ) in expressing concerns over the arrest; and demands immediate release of Chand.
Editor Chand was arrested from Manamaiju, Kathmandu by the Central Intelligence Bureau (CIB) of Nepal Police after the online published a news that a local in Chitwan district attempted to attack former Prime Minister Pushpa Kamal Dahal 'Prachanda', also co-chairman of the ruling Nepal Communist Party, during a meeting. Police has accused Chand of spreading false information and charged under the Electronic Transaction Act.
Ramesh Bista, the FNJ General Secretary, said: "Nepal Police has stepped outside their premises by repeatedly arresting journalists on cyber-crimes charges, which the FNJ considers an attack on press freedom. It is the responsibility of the Press Council of Nepal to evaluate contents of media and to take action. Arrest of journalists for their contents harasses journalists community and the FNJ demands immediate release of the arrested journalist."
In a separate incident, journalist Kamal Paudel Athak was threatened for a news about fraud on September 29. Paudel, who is associated with various news outlets in Pokhara, west Nepal, received threatening phone call from a person who didn't disclose his identity.
Ajaya Babu Shiwakoti, the General Secretary of IFJ affiliate Nepal Press Union said: "The NPU strongly condemn the threat to journalist who was exercising his rights to inform the public and write about fraud and corruption."
The IFJ said: "The IFJ condemns arrest of journalist Gopal Chand, and threatening phone call to journalist Kamal Paudel Athak in Nepal. The incidents show the weakening press freedom. The IFJ demands immediate release of Chand and arrest of the person who threatened Paudel. Nepal government should ensure that such incidents are not repeated in the future.
Written By

IFJ Asia-Pacific
The IFJ represents more than 600,000 journalists in 140 countries.
For further information contact IFJ Asia-Pacific on +61 2 9333 0946
Find the IFJ on Twitter: @ifjasiapacific
Find the IFJ on Facebook: www.facebook.com/IFJAsiaPacific
Comments