Press Statement
Nepali media barred from covering Indian PM's visit
16 May, 2018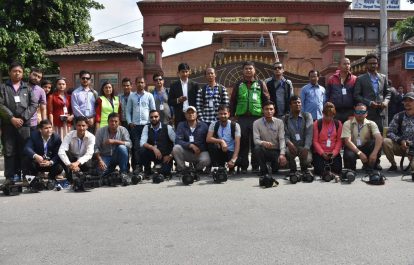 Nepali media were barred from covering some events during the visit of Indian Prime Minister Narendra Modi in Mustang and Kathmandu on May 12.
The International Federation of Journalists (IFJ) and its affiliate the Federation of Nepali Journalists (FNJ) express concerns over the incidents; and urge the Nepali authorities to ensure Nepali media are given access to public events in future.
On May 12, India's PM Modi visited Mustang district and Muktinath Temple, and also accepted the felicitation by the Kathmandu Metropolitan City in Kathmandu. However, Nepali media, despite holding the special pass provided by the Ministry of Culture were not allowed to cover the events.
Foreign media representatives, including Indian media, were allowed in whereas Nepali journalists were prohibited entry in Muktinath temple premises where PM Modi performed special prayers and the city hall where he received the felicitation. Journalists in Kathmandu protested the behavior by putting down their cameras on the street outside the city hall.
Ramesh Bista, the FNJ General Secretary, said: "The incidents show the commitment of the government towards the press freedom. The barring of media personnel who were on duty to cover events of public importance is the violation of the principle of press freedom. The FNJ condemns the incidents and demands that such incidents are not repeated in future."
Republica, a national daily of Nepal, in its editorial called the behavior of the state "insulting and unacceptable".
The IFJ said: "The IFJ is concerned by the barring of Nepali media personnel from covering some of the events of Indian Prime Minister's visit of Nepal. The act of selectively allowing some journalists to cover an event and barring others is unacceptable and is a form of censorship. The IFJ urges the Nepali authorities to take action against officials who directed such an action, and not to repeat such incidents in future."
Photo: Journalists in Nepal stage a protest after been blocked from covering the Indian Prime Minister's official visit. Credit: Photojournalists' Club, Nepal
Written By

IFJ Asia-Pacific
The IFJ represents more than 600,000 journalists in 140 countries.
For further information contact IFJ Asia-Pacific on +61 2 9333 0946
Find the IFJ on Twitter: @ifjasiapacific
Find the IFJ on Facebook: www.facebook.com/IFJAsiaPacific
Comments