Press Statement
Nepali photojournalist arrested at protest outside President's Office
14 Dec, 2018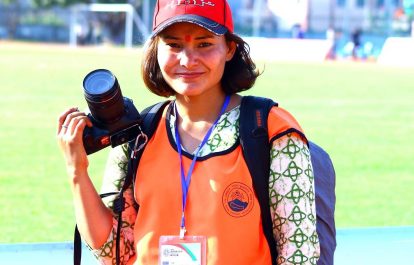 Photojournalist Barsha Shah was arrested and detained for three hours for taking pictures of a protest outside the President's Office at the Shital Niwas in Kathmandu, Nepal on December 13. The International Federation of Journalists (IFJ) joins its affiliates the Federation of Nepali Journalists (FNJ) and the Nepal Press Union (NPU) in strongly criticising the arrest and detention of Barsha Shah and demands the respect to journalists' rights from Nepali authorities.
Police arrested Shah, associated with Deshsanchar.com, as she was taking pictures of the protesters who had reached the President's residence to hand over a crowdfunded toy car as a symbolic protest to the government's decision to purchase an expensive luxurious bullet-proof car.
Police arrested Shah although she introduced herself as a photojournalist and showed her press card. Although Nepal Police maintained that she was arrested in a prohibited zone, Deputy Superintendent of Police Phadindra Prasai apologized to her for the police misbehavior while releasing her after three hours.
Ramesh Bista, the FNJ General Secretary, said: "It's an act against press freedom to arrest a journalist exercising her professional rights. The FNJ condemns the police action and urges the authorities not to repeat such act and to respect the constitutional rights of the press."
Ajaya Babu Shiwakoti, the NPU General Secretary, said: "The arrest of journalist Shah is a result of government's attempt to restrict the freedom of expression and press freedom. The NPU believes that her arrest is an attack on democracy and press freedom and urges the government to respect the independence of the media and stand for the freedom of expression."
The Photojournalist Club – Nepal, an FNJ associate and the umbrella organisation of photojournalists, condemned the arrest of Shah terming it as an attack on press freedom and democracy.
The IFJ said: "The IFJ condemns the arrest and detention of photojournalist Barsha Shah in Kathmandu, Nepal. It's highly concerning that Nepal government arrested a journalist for merely taking photos of a peaceful protest. It's an act against the press freedom and shows the authorities' attempt to narrow down the rights of the journalists and the citizens. The IFJ demands that Nepal government respect the journalists' rights and allow them to freely conduct their duties to inform the public."
Written By

IFJ Asia-Pacific
The IFJ represents more than 600,000 journalists in 140 countries.
For further information contact IFJ Asia-Pacific on +61 2 9333 0946
Find the IFJ on Twitter: @ifjasiapacific
Find the IFJ on Facebook: www.facebook.com/IFJAsiaPacific
Comments