Press Statement
Nepali police ask journalists to reveal source
09 Jan, 2018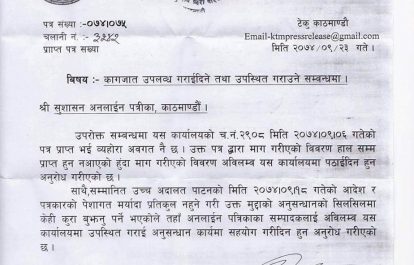 The International Federation of Journalists (IFJ) joins its affiliates the Federation of Nepali Journalists (FNJ) and the Nepal Press Union (NPU) in expressing serious concern over a court's ruling in Nepali which backed attempts by police to force editors of online media to reveal their sources. The IFJ urges the police to respect journalists' rights to protect sources and act accordingly.
On November 21, the Crime Division of the Metropolitan Police Office in Kathmandu wrote to several online media asking them to disclose the source who had revealed the secret appraisal reports of top police officials, following a controversy on the appointment of the Inspector General of Police (IGP).
The online media filed a complaint against the police's request claiming that the police infringed press freedom. But, the Patan High Court ruled that the police didn't violate freedom of the press.
On December 7, 2017 the police wrote a second letter to three online media platforms demanding to disclose the sources of a news report and asking the editors to attend the police office for questionning.
The police is investigating the unlawful access to the files and the alleged tempering with the secret appraisal reports.
The FNJ warns that the action by the police of forcing journalists to reveal their sources and summoning editors for questioning on published news is a threat to media freedom in the country. Ramesh Bista, the FNJ general secretary, said: "Such incidents threaten press freedom. The FNJ demands immediate withdrawal of the police requests and urges the concerned authorities not to repeat such acts in future."
IFJ General Secretary Anthony Bellanger said: "The protection of anonymity of sources is a core journalistic principle enshrined in IFJ's Declaration of principles. This principle is not only a journalists' right and duty, it is also crucial for independent journalism. The police attempts to force journalists to reveal their sources in Nepal are clear violations of press freedom. We urge the Nepali authorities to respect journalists' rights and refrain from undertaking act that could undermine press freedom."
Written By

IFJ Asia-Pacific
The IFJ represents more than 600,000 journalists in 140 countries.
For further information contact IFJ Asia-Pacific on +61 2 9333 0946
Find the IFJ on Twitter: @ifjasiapacific
Find the IFJ on Facebook: www.facebook.com/IFJAsiaPacific
Comments