Press Statement
News channels, social media blocked for a day in Pakistan
27 Nov, 2017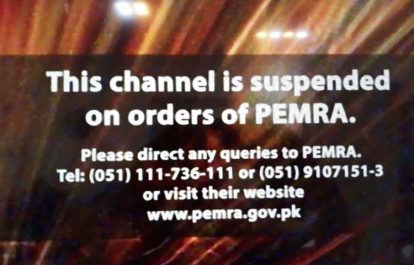 The International Federation of Journalists (IFJ) condemns the decisions by the Pakistani authorities to take down all television news channels and block access to some social media platforms on November 25 following a political demonstration in Islamabad, Pakistan. The IFJ urges Pakistan to ensure the right of citizens to access information is respected.
The Pakistan Electronic Media Regulatory Authority (PEMRA) on November 25 issued a directive prohibiting live coverage of the operation to end the Faizabad sit-in protest. The PEMRA directive was issued under the Electronic Media (Programmes and Advertisement) Code of Conduct 2015, ordering the channels to refrain from covering the security force's operation on the political protest. Following the directive, most news channels were taken off-air in Islamabad and other parts of the country, displaying the message: "This channel is suspended on orders of PEMRA", according to reports.
The Pakistan Telecommunication Authority (PTA) also directed the blocking of Facebook, YouTube, DailyMotion, Twitter and Instagram in some parts of the country on the Interior Ministry's orders. While internet services in Faizabad, Rawalpindi where the protests were happening, were also suspended.
The directives stood for nearly 28 hours after they were withdrawn on November 26.
The Pakistan Federal Union of Journalists (PFUJ) condemned the action on television and termed November 25 as 'Black Day' for shutting down the news channels by the government-run PEMRA. Bytes for All, Pakistan (B4A) expressed concerns over the complete information blackout and demanded the government to immediately restore unfettered access to internet, social media platforms, media channels and mobile services. The Digital Rights Foundation demanded the suspension of the blanket and nation-wide ban on social media and channels of communication, as it does not serve the principles of freedom of expression.

The IFJ said: "The blocking of social media platforms and coverage of news events violates the people's right to know and access to information. The censorship of information is against the principles of freedom of expression and the press, which only works to weaken democracy. We call on the Pakistani government to end the practice of blocking media and the internet during news events, and guarantee the people's access to information at all times."
Written By

IFJ Asia-Pacific
The IFJ represents more than 600,000 journalists in 140 countries.
For further information contact IFJ Asia-Pacific on +61 2 9333 0946
Find the IFJ on Twitter: @ifjasiapacific
Find the IFJ on Facebook: www.facebook.com/IFJAsiaPacific
Comments