Press Statement
Nine journalists arrested inside Singha Durbar in Nepal
17 Sep, 2019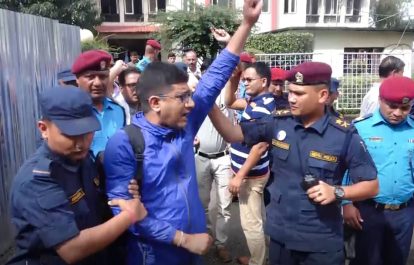 Police in Nepal have arrested nine journalists including general secretary of the Nepal Press Union (NPU) Mr. Ajaya Babu Shiwakoti from Central Secretariat, Singha Durbar, Kathmandu on Monday.
Journalsits were demanding restoration of job of three journalists who were working in government owned Radio Nepal in Doti district of the far-western province. They were fired from their job without any prior notice or administrative work.
Journalists from the NPU and the Federation of Nepali Journalists (FNJ) were demanding restoration of job of fellow journalists working in Doti while they were arrested. Nine journalists who were detained at 2 pm on Monday were released at 5 pm local time the same day.
"NPU condems the removal of three journalists from Doti from their job and demands their immediate restoration into their job. We also demand that government create an environment that is conducive to the freedom of expression, a guaranteed provision in the constitution", Ajaya Babu Shiwakoti, general secretary of the NPU said.
Government is dealing harshly with the working journalists so that they do not feel safe to report against the government independently. Latest detentions of journalists show the intention of the government toward journalists and journalism in Nepal.
Here is the list of detained journalists:
1. Ajaya Babu Shiwakoti, General Secretary, NPU
2. Ram Prasad Dahal, Secretary, FNJ
3. Janmadev Jaisi, Central committee member, FNJ
4. Yam Birahi, Central Committee member, FNJ
5. Dilip Paudel, Central Committee member, NPU
6. Min Bam, Central Committee member, FNJ
7. Chakra Kuwar, Branch Vice President, NPU Doti
8.Yogendra Balayar, Branch President, FNJ Doti
9. Prakash Bam, Branch President, NPU Doti
Update on September 23, 2019:
The Federation of Nepali Journalist (FNJ), Central Committee has picketed all the broadcasting stations of Radio Nepal in all seven provinces, demanding the reinstatement of the working journalist removed from Radio Nepal Deepayal broadcasting centre. At Kathmandu, Bipul Pokhrel, Vice President of FNJ led the protest. The FNJ has warned the government that it will continue agitating broadcast stations until journalists are reinstated. The government is taking away the job of journalists on the basis of political faith.
Addressing the protest, Vice President Pokhrel warned the government not to play down FNJ. He said, "journalists were fired from the job, and that this act confirmed that the administration and executive director of Radio Nepal were irresponsible." He said that the expelled journalists should be immediately reinstated, adding that the FNJ would be forced to embark on a more powerful movement.
FNJ General Secretary Ramesh Bista urged the Minister of Communication and Information Technology Gokul  Baskota, who himself was a journalist in the past, to remember that 'we had struggled together'. He warned that the FNJ would go against it if the government moved in a non-democratic manner.
The FNJ has been protesting for reinstatement of Sunita Rawal, Prakash Bam and Chakra Kunwar, who was fired by Radio Broadcasting Development Committee last August. Representatives of different media organizations and a significant number of journalists participated in the program. Central members of FNJ led the protests outside Kathmandu.
Written By

Nepal Press Union
Nepal Press Union Anam Nagar, GPO Box No - 19033 Kathmandu, Nepal Telephone: 015244746
Comments