Press Statement
One media worker killed and 22 injured in attack on Shamshad TV
08 Nov, 2017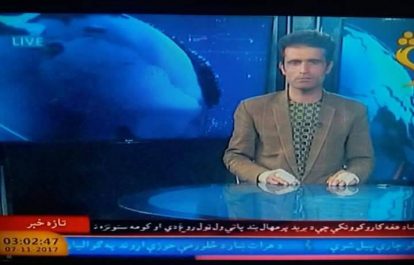 Afghan Independent Journalists Association condemned attack on Shamshad Television in Kabul with strong words. AIJA leadership think terrorists Attack can't stop media activities and strong voice, fighting for press freedom and freedom of expression.
Two armed men with guns, explosive materials, and suicide jackets entered Shamshad Television in middle part of Kabul city 10:30 am this morning, killing front gate guard and wounded 22 media workers and journalists. 6 media workers and journalists' health conditions are reported serious.
Shamshad security guards kept the attacker away from the main building entrance to open backyard door for major part of employees, station workers and journalists to leave the building quickly.
Afghan Special Forces helped the television guards to control the attack in less then 3 hours with killing both terrorists. Television live broadcasting was restarted after 2 hours delay by brave presenters having sign of injuries in their hands.
"Media workers are civilians without arms, attacking them like military target is a war crime" Said Rahimullah Samandar president AIJA.
He added: "The way Shamshad security guards, workers and journalist's played with their lives, it shows that Afghan media and journalists can defend press freedom with all prices.
AIJA leadership requests the NU government to take strong measures for media houses and journalists safety and assess the media houses internal security mechanisms for improvements and new systems installation.
AIJA is also highlighting the needs for safety training, safety equipment for Afghan journalists, which are not available inside Afghanistan, while conflicts and war are increasing.
Photo: Shamshad TV was back on the air with a presenter with injured hand giving news of the attack. Credit: AIJA
Written By

Afghan Independent Journalists' Association
Afghan Independent Journalists' Association Dar-ul-Aman Rd, Opp to Habiba High School, Street No 1, House No 10 Karta Seh, Kabul Afghanistan
Comments