Maldives
One year later: #FindMoyameehaa
05 Aug, 2015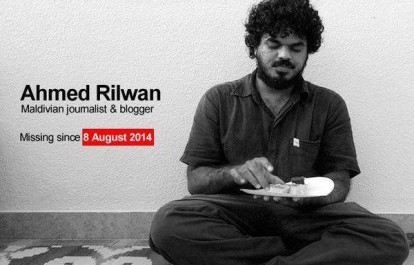 Minivan News journalist Ahmed Rilwan was last seen entering the Hulhumalé ferry terminal at 00:44 hrs on 8th August 2014, after spending the evening with friends and family.
Almost one year later, there has been little progress in the investigation into the first enforced disappearance of a journalist in the Maldives.
Rilwan
Ahmed Rilwan – who adopted the online pseudonym moyameehaa (mad man) – was one of the earliest and most popular bloggers in the Maldives.
At a young age, he was drawn to extremist jihadist ideologies. However, over time, he distanced himself from them and ended up as one most informed, vocal and consistent voices against religious radicalism in the Maldives.
He wrote on his blog important stories that mainstream newspapers at the time didn't dare to publish. He used social media and digital tools to great effect, in order to spark discussion on topics on subjects like universal human rights and religious extremism that were considered taboo by traditional media.
In response to his outspoken views, Rilwan reported intimidation attempts by religious extremists and radicalized gangs.
Four days before he disappeared, Rilwan reported on death threats received by journalists and MPs in the Maldives.
Abduction
It emerged later that on the night that he disappeared, neighbours reported an abduction from outside Rilwan's apartment.
Eyewitnesses saw a man being abducted at knife point and taken away in a red car a little before 2 am that night – about the time Rilwan would have reached home. Police had arrived and even recovered a knife from the scene. However, none of this information was made available to Rilwan's family, even after he was reported missing.
The Home Minister has at various points stated that gangs were involved in the disappearance, but has since then provided no additional updates.
Police have also failed to make public the report from DNA samples obtained from the car. Some unnamed suspects detained in relation to the case were all subsequently released.
#FindMoyameehaa campaign
To demand action and accountability from the state, Rilwan's well-wishers started the #FindMoyameehaa campaign – the first of its kind in the Maldives.
The campaign has organized rallies, petitions, public events, awareness programs on the streets, and also engages the public on social media.
The #FindMoyameehaa campaign has drawn widespread attention and international press coverage, and also generated responses – including statements from IFJ, SAMSN, Amnesty International, Reporters Without Borders, the Human Rights Commission of the Maldives, and various national and international bodies.
The lack of progress on Rilwan's case has been put on the agenda of domestic political negotiations, as well as in forums such as the EU Parliament and UNHRC.
However, the government has failed to step up efforts to pursue the case, or ensure security for journalists.
Vanishing Press freedom
The Maldives' Press Freedom Index ranking has fallen to 112 this year – even lower than it was in 2008 under the Gayoom dictatorship.
In June 2012, freelance journalist and blogger Ismail Hilath Rasheed had his throat slashed in a near fatal attack. An opposition aligned TV station was set on fire in an arson attack, and journalists have been physically assaulted.
In September 2014, the Maldivian Democracy Network published the findings of a UK based private investigator, that implicated several gang members with suspected political ties in Rilwan's disappearance case.
Soon after the report was published, a man was caught on video attacking Minivan News CCTV camera, and a machete was found lodged in the door of the building.
No action was ultimately taken by the Police against this blatant attempt at intimidation.
Local media has reported that at least one individual implicated in Rilwan's disappearance has since been allowed to leave the Maldives to join ISIS militants in Syria.
Apart from journalists, over 40 murders have taken place in the tiny capital city of Malé in recent years.
None of these cases has seen a successful conclusion.
In a public press conference on 8th July 2015, Rilwan's family called for an independent public inquiry into the disappearance and the lapses in the investigation.
To mark one year since his disappearance, the family also announced a public rally on August 8th 2015 to remind the State of its duty to protect journalists and enforce the law.
Considering the precarious situation of media freedom in the Maldives, it is imperative that Rilwan's case be brought to a logical conclusion, and adequate steps be taken to restore space for journalism and free expression in the Maldives.
Yameen Rasheed is a freelance writer and political commentator based in Malé, Maldives. He blogs at www.thedailypanic.com and you can follow him on twitter at @yaamyn.
photo provided by: Yameen Rasheed
Written By
Comments