Press Statement
Opposition TV in Maldives reeling under fine for alleged defamation
10 Apr, 2017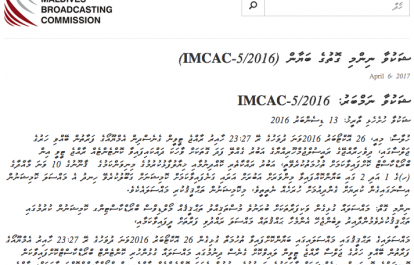 The International Federation of Journalists (IFJ) joins its affiliate the Maldives Journalists Association (MJA) in expression serious concerns on the April 6 decision of the broadcasting authority to impose a heavy fine on Raajje TV for alleged defamation. The IFJ demands immediate review of the decision in order to ensure that the media is provided an environment to freely report.
The Maldives Broadcasting Commission (MBC) slapped the opposition-aligned TV channel with a fine of MVR 1 m (US$ 64,850) for content that it deemed defamed President Abdulla Yameen. The content in question is a speech by a speaker at a rally held by Maldivian United Opposition on October 26, 2016 which the TV had broadcast live.
The letter sent to the channel signed by the MBC said that Raajje TV had violated clause 10 subsection (a) (1) and (2) of the Anti-Defamation and Freedom of Expression Act, passed in August, 2016. The MBC said that due to the broadcast of the content, Raajje TV had created doubt amongst members of the public over the roles and responsibility of the President and damaged his reputation and dignity.
The channel had been ordered to pay the fine within a period of 30-days. According to the controversial Anti-Defamation Act, the channel cannot even appeal the decision in court without paying the fine. If the fine is not paid, the MBC can suspend or cancel Raajje TV's license.
This is the second time Raajje TV has been fined under the law and the order came on the day that the channel paid its first fine of MVR 200,000 (US$ 10,400) which they collected through public fundraising.
The IFJ said: "The IFJ is seriously concerned by the decision of the Maldives Broadcasting Commission to fine Raajje TV a hefty amount for words heard during a live broadcast. Such acts will undermine democracy and press freedom; and will have a chilling effect on the media. The IFJ demands immediate review of the decision through judicial procedure and urges the Maldivian government to ensure that press freedom is not compromised and dissenting voices are not targeted."
Written By

IFJ Asia-Pacific
The IFJ represents more than 600,000 journalists in 140 countries.
For further information contact IFJ Asia-Pacific on +61 2 9333 0946
Find the IFJ on Twitter: @ifjasiapacific
Find the IFJ on Facebook: www.facebook.com/IFJAsiaPacific
Comments