Press Statement
Pakistan: ARY News broadcast suspended across country, executive arrested
10 Aug, 2022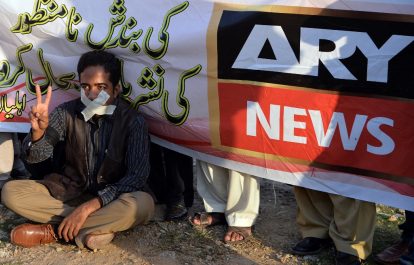 According to the PFUJ, Ammad Yousaf, Senior Executive Vice President of ARY News, was arrested on sedition charges on August 10. Sources close to the detained said Yousaf was arrested without a warrant by plain-clothed officers.
Police forcibly entered Yousaf's home, removing licensed weapons and recordings of CCTV footage. The arrest has been strongly condemned by media associations and press clubs across Pakistan, with Yousaf's current well-being unknown.
Four other ARY News employees were also booked under sedition charges, including President and CEO Salman Iqbal, and television anchors Arshad Sharif and Khawar Ghuman. Producer Adeel Raja was also named in an FIR registered at Karachi's Memon Goth police station.
Representatives of ARY News said the broadcaster had attempted to contact the provincial Government of Sindh about the charges, but no response had been given.
On August 9, The Pakistan Electronic Media Regulatory Authority (PEMRA) issued instructions to cable providers to suspend the ARY News broadcast but failed to release a formal notification.
According to reports, the suspension, which impacted viewers across India and Pakistan, came hours after the media organisation stated that the Pakistan Muslim League-Nawaz (PML-N) had initiated a media campaign to portray the Pakistan Tehreek-E-Insaf (PTI) and its leader, Imran Khan, as 'anti-armed forces'.
PEMRA claimed the material aired was "seditious" and represented "a clear and present threat to national security". Shahbaz Gill, senior PTI leader, was arrested shortly after ARY News was taken off air and was charged with inciting violence against state institutions.
The station has previously said that the PML-N's strategic media unit, created on June 27, is advancing a narrative that portrays Imran Khan as an anti-army politician. ARY is one of Pakistan's most popular media channels and has been suspended on multiple occasions following coverage of the PTI party and criticism of the ruling PML government.
PFUJ President GM Jamali and Secretary General Rana Azeem said: "If somebody has done something unlawful, a legal notice may be served; otherwise, journalists' jobs may be jeopardised. If the suspension orders are not lifted, the PFUJ will protest throughout Pakistan."
The IFJ said: "PEMRA's suspension of ARY News' transmission, the arrest of Ammad Yousaf and the registering of FIRs against several ARY News employees are blatant acts of legal harassment and censorship against Pakistan's media. The IFJ urges the Pakistani government to safeguard the rights of all journalists and media workers and ensure freedom of expression and freedom of the press are maintained in accordance with the Constitution of Pakistan."
Written By

IFJ Asia-Pacific
The IFJ represents more than 600,000 journalists in 140 countries.
For further information contact IFJ Asia-Pacific on +61 2 9333 0946
Find the IFJ on Twitter: @ifjasiapacific
Find the IFJ on Facebook: www.facebook.com/IFJAsiaPacific
Comments