Press Statement
Pakistan: ARY News suspended by regulators
07 Mar, 2023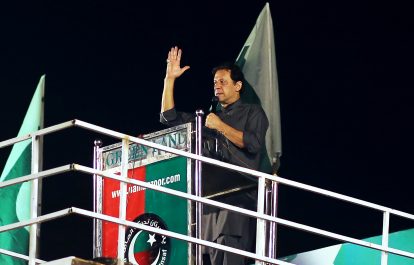 The Pakistani news and current affairs channel ARY News has had its license suspended for broadcasting clips of former Prime Minister Imran Khan, whose speeches Pakistani authorities are claiming undermines state institutions and incites enmity. The International Federation of Journalists (IFJ) and its Pakistan affiliate, the Pakistan Federal Union of Journalists (PFUJ) call on the Pakistani authorities to immediately withdraw transmission suspension orders and restore the license of the TV channel.
The ban was enforced late on Sunday by the Pakistan Electronic Media Regulatory Authority (PEMRA) following Khan's address in Lahore, during which he claimed that former army chief General Qamar Javed Bajwa was behind his ousting from office in April 2022. In his address, Khan alleged that authorities had attempted to arrest him in a corruption investigation. Khan, who rejects the accusations, eluded capture.
In its announcement, the PEMRA claimed Khan's speeches have spread hate speech and disinformation, an outcome "harmful to the preservation of law and order and liable to disturb public peace and quiet". The media regulator suspended the license of ARY News, a commercial news channel, for transmitting Khan's Lahore address about two hours after the ban was imposed.
According to the PEMRA, the news channel breached its directive. "The PEMRA announcement arrived after 8 pm, and practically all the networks broadcast excerpts of Imran Khan's address in their 9 pm bulletins," said the ARY news management. "The regulatory authorities, however, just suspended our license".
According to the channel management, ARY News transmission was suspended in Karachi, Lahore, Islamabad, Sialkot, Hyderabad, Faisalabad, and other places. The transmission was suspended after the Pakistan Electronic Media Regulatory Authority (PEMRA) issued instructions to cable providers. This was the third time the PEMRA has banned TV stations from broadcasting Khan's words since he was ousted as Prime Minister.
PFUJ President GM Jamali and Secretary General Rana M Azeem both condemned the banning of ARY News, calling it a violation of free expression. "If the suspension orders are not removed, the PFUJ will protest throughout Pakistan," they said.
The IFJ said: "The suspension of transmission would be tantamount to depriving Pakistan of the media freedoms enshrined in the Constitution of Pakistan that have been so hard fought for and defended by journalists and unions. The IFJ urges the Pakistani government to ensure freedom of expression in accordance with the Constitution of Pakistan and its international commitments and obligations."
Written By

IFJ Asia-Pacific
The IFJ represents more than 600,000 journalists in 140 countries.
For further information contact IFJ Asia-Pacific on +61 2 9333 0946
Find the IFJ on Twitter: @ifjasiapacific
Find the IFJ on Facebook: www.facebook.com/IFJAsiaPacific
Comments