Press Statement
Pakistan: Broadcasting authority PEMRA suspends license of two TV channels
28 Nov, 2016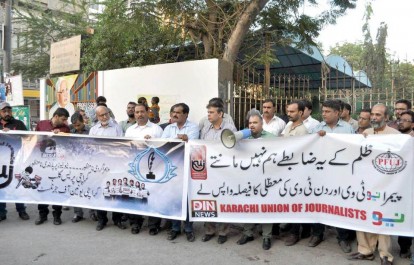 The International Federation of Journalists (IFJ) joins the Pakistan Federal Union of Journalists (PFUJ) in condemning the action of the Pakistan Electronic Media Regulatory Authority (PEMRA) suspending the license of two television channels on November 26.
The IFJ demands that the channels be allowed to continue broadcasting.
PEMRA suspended licenses of Din News for a month and Neo TV for a week; and fined them Rs 1 million (approximately USD 9,500) for 'levelling baseless allegations against the judge of the Supreme Court'. PEMRA also fined Sach TV Rs 1 million for the airing remarks of a caller. The suspension will be implemented from December 1, 2016 and the fine payable within 15 days.
Three satellite TV channels were issued notices on November 19, 2016 for airing 'irresponsible' analysis and asked to submit their replies on November 26, 2016 after appearance in PEMRA. On November 26, the reply was submitted and the channels were allowed to present their defense.
The PFUJ termed the decision a tantamount to attack on media and its freedom of speech and expression. "We understand that the PEMRA should issue warnings if some channels are not following the code of conduct but the suspension of licenses is unlawful and an attack on the freedom of media which is not tolerable. The PFUJ demands the PEMRA take its orders back and let the channels continue their broadcast," said the union.
The IFJ added: "Orders to suspend broadcasting of television channels over its content is against the principles of the press freedom and the IFJ demands that the decision to suspend broadcasting be annulled."
Written By

IFJ Asia-Pacific
The IFJ represents more than 600,000 journalists in 140 countries.
For further information contact IFJ Asia-Pacific on +61 2 9333 0946
Find the IFJ on Twitter: @ifjasiapacific
Find the IFJ on Facebook: www.facebook.com/IFJAsiaPacific
Comments