Press Statement
Pakistan: Campaign against impunity for Arshad Sharif's murder
24 Nov, 2022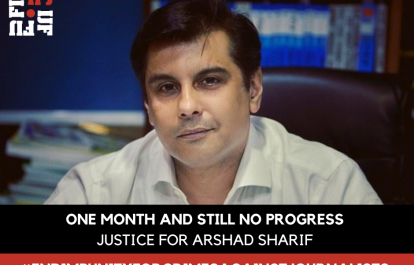 The Pakistan Federal Union of Journalists (PFUJ) has announced the launch of a campaign fighting against impunity in the case of senior journalist Arshad Sharif. The International Federation of Journalists (IFJ) joins its affiliate, the Pakistan Federal Union of Journalists (PFUJ), in condemning impunity in attacks against journalists and urging Pakistan's government to investigate the killing and deliver justice to Sharif's family and the media community.
n November 23, the PFUJ launched a campaign protesting the insufficiency of the investigation into the October 23 killing of Arshad Sharif in Kenya and demanded that Pakistani authorities conduct an immediate and transparent investigation to apprehend the perpetrators. The union has issued a call to regional unions to establish protest camps, raising awareness of the issue, and pressuring courts and politicians to contribute to moving forward legal proceedings.
According to Kenyan police reports, Sharif was fatally shot by police while driving to Nairobi, Kenya on October 23. After Sharif and his brother allegedly drove through a security roadblock, officers from Kenya Police Service's paramilitary wing opened fire on the vehicle, shooting a total of nine rounds, with one hitting Sharif through the back of the head.
Police had formed a roadblock using small stones following reports of an incident of car theft and child kidnapping. Kenyan authorities claimed the killing was an accident and expressed regret at the incident, with Kenya's Independent Police Oversight Authority launching an immediate probe.
Sharif had previously left Pakistan in August for the United Arab Emirates, spending several weeks in Kenya before his death, after multiple arbitrary First Information Reports were filed against him. Sharif was one of several ARY News employees charged by Pakistani authorities after the station broadcast an interview with Shahbaz Gill, aide of former Prime Minister Imran Khan during which Gill made comments critical of the military.
One month after the killing, investigations into the incident from both Kenyan and Pakistani authorities and the planned judicial commission have made no serious headway. Kenyan police representatives have presented contradictions in their testimony and addresses to the media, cooperation between Kenyan and Pakistani officials has faced setbacks, and authorities in Pakistan have also faced difficulties in their investigation.
PFUJ President, GM Jamali, and Secretary General, Rana Muhammad Azeem, said: "We strongly condemn the impunity for Arshad Sharif's murder, it is disgraceful that no serious investigation has begun nearly one month after his death. We have been asking the authorities and the Supreme Court to seriously investigate the case of Arshad Sharif's murder, but this has so far been in vain. The PFUJ has no choice but to stage a countrywide protest to achieve justice."
The IFJsaid: "Transparent and thorough investigations into crimes against journalists are unfortunately rare in Pakistan. The IFJ urges the authorities in Pakistan and Kenya to complete an immediate and thorough investigation into Arshad Sharif's murder so impunity is not permitted to run rife for this crime. The safety of journalists in Pakistan must be protected and the government must fulfil its international obligations under the Pakistani Constitution regarding freedom of expression and freedom of the press."
Comments