Press Statement
Pakistan: Capital TV's crime reporter gunned down
27 Jan, 2022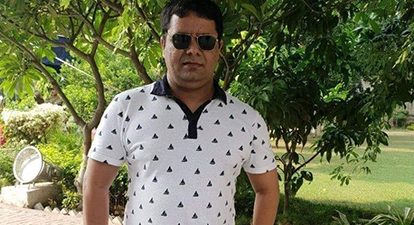 Journalist Hasnain Shah, a crime reporter for Capital TV, was gunned down by an unidentified armed group in broad daylight. The International Federation of Journalists (IFJ) and its Pakistan affiliate, the Pakistan Federal Union of Journalists (PFUJ), condemn the journalist's murder and urge the Pakistani government to immediately conduct a transparent investigation and achieve justice for this blatant attack.
Hasnain Shah, a member of the Lahore Press Club (LPC), was inside his car outside the LPC in Lahore, Punjab, at around 4 pm on January 24, when an unidentified armed group intercepted the vehicle and fatally shot him. The attackers fired many times into Shah's chest before absconding. It is not yet clear whether his murder was related to his past reportage.
On January 26, police stated that they had detained a prime suspect in the journalist's murder. According to police, Amir Butt, the proprietor of Gold Asia Jewelers, had been arrested, with an investigation currently underway.
Media rights organisations, such as the Council of Pakistan Newspaper Editors (CPNE), the Pakistan Federal Union of Journalists (PFUJ), Lahore Press Club, Lahore Economic Journalist Association (LEJA), and Haidarabad Union of Journalists Club (HUJ) condemned the killing and called for swift action on the case.
Shah is the first journalist to be killed in 2022 in the Asia Pacific region. According to the IFJ's documentation, three journalists, Kashif Hussain, Ajay Lalwani and Shahid Zehri, were killed in 2021 in Pakistan.
PFUJ Secretary General, Rana Azeem, said: "This attack on a journalist in front of on the busy road in-front of the Lahore Press Club has rendered a wave of shock in the entire journalist community. It is a total failure of Lahore Police in protecting the life of a journalist who was himself a crime reporter."
IFJ General Secretary Anthony Bellanger said: "The brazen killing of Hasnain Shah is yet another blow to press freedom in Pakistan and sends a worrying message that journalists can be killed anytime and anywhere just for doing their jobs. The IFJ urges the Pakistan government to thoroughly investigate the case, punish the perpetrators and cease impunity for crimes against journalists."
Written By

IFJ Asia-Pacific
The IFJ represents more than 600,000 journalists in 140 countries.
For further information contact IFJ Asia-Pacific on +61 2 9333 0946
Find the IFJ on Twitter: @ifjasiapacific
Find the IFJ on Facebook: www.facebook.com/IFJAsiaPacific
Comments