Press Statement
Pakistan: Censorship continues in Imran Khan's Pakistan
29 Jul, 2019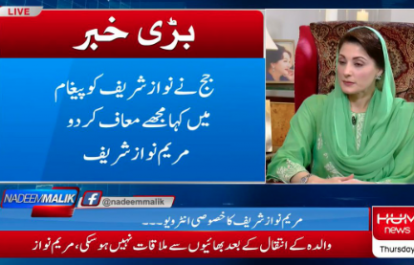 An interview with vice president of the Pakistan Muslim League Nawaz (PML-N) Party Maryam Nawaz Sharif was pull off air from Pakistan's news channel Hum News on July 11. The International Federation of Journalists (IFJ) joins its affiliate the Pakistan Federal Union of Journalists (PFUJ) in condemning ongoing censorship of opposition parties in Pakistan.
Nadeem Malik, senior journalist and program host, Tweeted about the incident on July 11 saying, "Just came to know Maryam Nawaz Sharif's interview has been stopped forcefully just [a] few minutes after it started live." He then broadcasted the interview on his Twitter and YouTube accounts.
Hum News released a statement on Twitter, saying, "Hum News firmly believes in a free and responsible media. Protecting freedom of expression is one of our core values. At the same time, we stand for the respect and dignity of judiciary in line with our ethical values and constitution."
According to PFUJ, censorship in Pakistan has increased in the recent weeks. On July 6 three television channels Abb Takk, 24 News HD and Capital TV,were taken off air after broadcasting an unedited live telecast of Maryam Nawaz. The Pakistan Electronic Media Regulatory Authority (PERMA) also directed networks to refrain from airing any part of the conference, threatening it would be considered as a "deliberate attempt to violate" the directives and orders of the judiciary. On July 1, an interview with Pakistan's former president Asif Ali Zardari was taken off air within minutes of commencing broadcast on Geo News.
PFUJ demands the Ministry of Information to take action against further attempts to censor news without justifiable reason. PFUJ said other shows were muted during its live telecast, which can be seen as forced and needless censorship.
PFUJ president, GM Jamali, said: "Pakistani media is facing the worst circumstances ever in the country's 71 years of existence. It seems some forces are trying to weaken the media and stop the facts from coming out which is detrimental to democracy. We will fight for our right of expression and continue doing our work of reporting the facts, which is not a crime."
The IFJ said: "The authorities need to stop this blatant and aggressive censorship of Pakistan's media which violates the basic right of the public to gain access to vital political information. Independent media may suffer the immediate consequences but it is Pakistani society that suffers in the long-term."
Written By

IFJ Asia-Pacific
The IFJ represents more than 600,000 journalists in 140 countries.
For further information contact IFJ Asia-Pacific on +61 2 9333 0946
Find the IFJ on Twitter: @ifjasiapacific
Find the IFJ on Facebook: www.facebook.com/IFJAsiaPacific
Comments