Press Statement
Pakistan: Channel 5 journalist crushed to death while covering PTI long march
01 Nov, 2022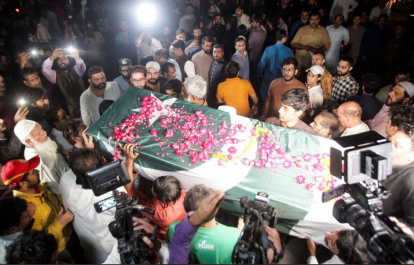 According to Naeem's home channel, Channel 5, the journalist fell from a Pakistan Tehreek-e-Insaf campaign vehicle after being pushed by a security guard and was subsequently crushed by the vehicle. Eyewitness accounts suggest she may have been trying to climb the container to interview former Pakistani Prime Minister Imran Khan. She was taken to the nearest Tehsil Headquarters Hospital in Kamoke, Punjab, by a colleague, however, was pronounced dead on arrival. The march was postponed after the journalist's fall.
Naeem's death received condolences across political boundaries. Her body was laid to rest on October 31 in Lahore, Punjab. The Pakistani government has since formed an inquiry committee into the circumstances of Naeem's death.
According to reports from colleagues, Naeem was not provided with transportation to cover the rally, so had to travel with another news team. More disturbing are reports she had been working without pay for the past three months. Field reporters in Pakistan are regularly required to cover rallies and sit-ins without basic safety training or equipment, and many are overwhelmed by unrealistic demands on news gathering from newsroom management.
Naeem's death comes less than a week after the killing of Pakistani journalist Arshad Sharif in Kenya on October 25. The IFJ's 2021-2022 South Asia Press Freedom Report detailed the dangerous reality on the ground in Pakistan, with 42 media violations and 6 killings.
The PFUJ said: "The PFUJ condemns the murder of Channel Five reporter Sadaf Naeem and demands the government conduct an immediate and transparent inquiry into the circumstances that caused this tragedy."
IFJ General Secretary, Anthony Bellanger, said: "The death of Sadaf Naeem in her line of duty is completely unacceptable and reflects severely inadequate workplace health and safety standards and education in Pakistan. The IFJ urges Channel 5 and other news outlets to take substantial action to take this situation forward to the government and have a much needed dialogue on work that endangers the lives of journalists."
Written By

IFJ Asia-Pacific
The IFJ represents more than 600,000 journalists in 140 countries.
For further information contact IFJ Asia-Pacific on +61 2 9333 0946
Find the IFJ on Twitter: @ifjasiapacific
Find the IFJ on Facebook: www.facebook.com/IFJAsiaPacific
Comments