Press Statement
Pakistan: Daily Koshish journalist shot
04 Jun, 2020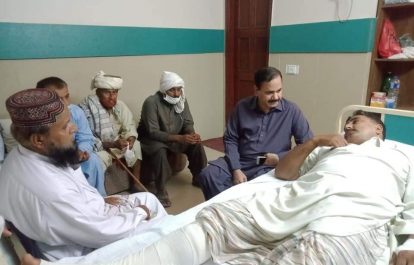 Unidentified assailants shot Sindhi daily Koshish journalist Jamil Mahar on June 2 leaving him critically injured. The International Federation of Journalists (IFJ) and its affiliate the Pakistan Federal Union of Journalists (PFUJ) strongly condemn the attack and call on the government to investigate the incident. 
Jamil was chased by two assailants riding a motorcycle, firing at him indiscriminately in Taluka Lakhi Ghulam Shah located in Shikarpur district. According to the president of the Shikarpur Union of Journalists (SUJ), Ahga Asrar Pathan, Jamil was working when he was shot in the leg and rushed to Lakhi Taluka Hospital. Doctors have since confirmed Jamil is in a stable condition.
Jamil is the senior vice president of the SUJ, a journalists' trade union in the region known for highlighting media rights violations. Only a week ago, Jamil's colleague at the Koshish Daily and senior journalist Zulfiqar Ali Mandranifor was shot dead by assailants in Jacobabad on May 26.
PFUJ said:"PFUJ is dismayed by the present trend of attack to the journalists in Pakistan. We wish the quick recovery of the injured journalist and urge the government to investigate the attack and put the assailants behind bars."
 The IFJ said: "The IFJ is deeply saddened by the attack on Jamil and hope he has a full and speedy recovery. The attack on Jamil follows a concerning series of journalists murdered in Pakistan in the last month drawing the world's attention to the dangers of the profession. The IFJ urges the government consult journalist unions and create a conducive environment that will allow journalists' to report without fear."
Written By

IFJ Asia-Pacific
The IFJ represents more than 600,000 journalists in 140 countries.
For further information contact IFJ Asia-Pacific on +61 2 9333 0946
Find the IFJ on Twitter: @ifjasiapacific
Find the IFJ on Facebook: www.facebook.com/IFJAsiaPacific
Comments