Press Statement
Pakistan: Daniel Pearl's parents launch appeal to Supreme Court
05 May, 2020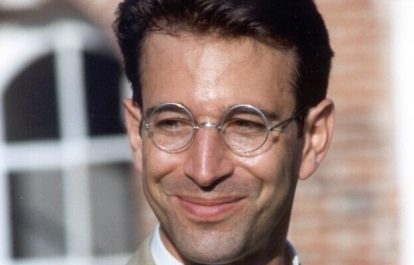 The parents of murdered US journalist Daniel Pearl filed an appeal to the Supreme Court of Pakistan on May 2, a day before the World Press Freedom day, in an effort to reverse the Sindh High Court's ruling that overturned the convictions of four men in murder of their son. The International Federation of Journalists (IFJ) and its affiliate the Pakistan Federal Union of Journalists (PFUJ) express its solidarity with the Pearl's family to seek justice.
Pearl's father, Judea Pearl, confirmed the appeal to the higher court seeking a reversal to the April 2 ruling. "The Sindh High Court has misapplied the burden and the standard of proof erroneously to the facts of this case," their appeal reads.
The Sindh High Court (SHC) on April 2 overturned the death sentence order of Hyderabad Anti-terrorism Court to Ahmed Omer Saeed Sheikh who was found guilty of abducting and killing Wall Street Journal reporter Pearl in 2002. In response to the appeal filed by those convicted 18 years ago, a two-judge bench sentenced Ahmed Omer Saeed Sheikh to seven years imprisonment citing Sheikh was guilty only of Pearl's abduction. Also, the SHC ordered the release of Fahad Naseem, Sheikh Adil, and Salman Saqib who were also accused in the case. They were originally sentenced to life in prison.
With the filing of the petition by Pearl's parents, there are now two petitions seeking a reversal of the SHC decision. Earlier, on April 22, the Sindh government filed a petition in the Supreme Court challenging the SHC decision.
The SHC's April 2 ruling was widely criticised by journalists groups and human rights organizations, leading to their re- arrest on April 3.
Pearl was kidnapped and beheaded in 2002 while investigating Islamist militants in Karachi, Pakistan.
PFUJ said:  "We still believe that justice must be granted in the case of the murdered journalist Daniel Pearl and culprits must be punished."
IFJ said:  "IFJ and its affiliates around the globe join together with the family of the Daniel Pearl in the pursuit of justice. While we also appreciate the Sindh government's appeal challenging the SHC decision, we know more must be done to fight impunity and violence against journalists in Pakistan."
Written By

IFJ Asia-Pacific
The IFJ represents more than 600,000 journalists in 140 countries.
For further information contact IFJ Asia-Pacific on +61 2 9333 0946
Find the IFJ on Twitter: @ifjasiapacific
Find the IFJ on Facebook: www.facebook.com/IFJAsiaPacific
Comments