Press Statement
Pakistan: Fatwa puts journalists in serious danger
10 Apr, 2019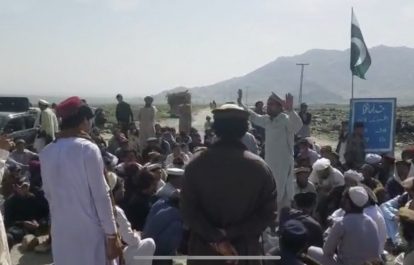 The former leader of Jamaat-e-Islami's (JI), an Islamist political party in Pakistan, issued a fatwa on April 8, promoting the killing of journalists in Pakistan. The International Federation of Journalists (IFJ) and the Pakistan Federal Union of Journalists (PFUJ) have condemned the fatwa and called on the Pakistan government to take immediate steps to guarantee the safety of the media.
Taj Mohammad Wazeer, the former leader of JI and members of Pakistan's National Assembly, made the announcement at a political rally attended by hundreds of people in South Warizistan in Khyber Pakhtunkhwa. According to reports, Taj announced the fatwa at the protest saying: "The media has not come to cover this protest because it is against of the government and the army. Snatch the cameras, mobiles and all other devices from them and declare jihad against them" He went on to say that he ordered journalists in Wana to be killed and that he would take responsibility for this action.
A fatwa is a ruling on a point of Islamic law, usually given by a recognized authority.
PFUJ have shown extreme concern regarding these threats against the journalists of Wana. They have asked the government to take immediate actions against these threats to the journalists and also asked the JI's leadership to take immediate notice and action against these threats given by a senior member of their party. PFUJ leaders said that JI will be held responsible if any journalist is hurt or killed due to this fatwa.
JI issued a statement to the media stating that the current JI leader Sirajul Haq is planning to visit the press club in Wana to investigate this issue.
The IFJ said: "This fatwa is an outrageous attack on the safety of Pakistan's media and those working in the increasingly volatile area of Khyber Pakhtunkhwa. IFJ figures shows that Pakistan's media remains under threat with journalists killed, abducted, attacked and threatened all too often. We demand immediate action from the Pakistan government to ensure the safety of the media and the culture of impunity for threats and attacks on the media in Pakistan."
IFJ figures show that Pakistan remains one of the deadliest countries in the world, with 17 journalists and media workers killed since 2015.
Written By

IFJ Asia-Pacific
The IFJ represents more than 600,000 journalists in 140 countries.
For further information contact IFJ Asia-Pacific on +61 2 9333 0946
Find the IFJ on Twitter: @ifjasiapacific
Find the IFJ on Facebook: www.facebook.com/IFJAsiaPacific
Comments