Press Statement
Pakistan: Female journalist fatally shot in Balochistan
07 Sep, 2020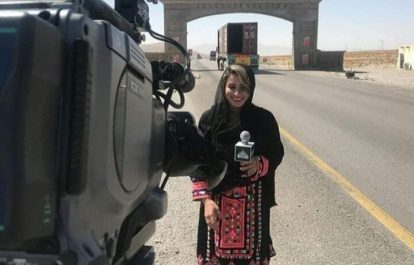 Journalist Shaheena Shaheen was shot dead in her home on September 5 in Turbat, Kech in a suspected domestic violence offence. The International Federation of Journalists (IFJ) along with its Pakistan affiliate, the Federal Union of Journalists (PFUJ) express their deep condolences to Shaheena's family and friends, and highlight the need for the increased protection of female journalists from situations of gender-based violence.
Shaheen, state-owned Pakistan Television morning show host and the editor of a local –language magazine Dazgohar was fatally shot, allegedly by her husband of six months, Nawabzada Mahrab. Her family members have suggested that it may have been an 'honour killing'.
The Turbat police registered the case as a murder and have begun an investigation with her husband being the chief suspect. Officials reported that Mahrab along with another man left the Shaheen's body at the local hospital before fleeing the scene. Police are still searching for Mahrab.
Shaheen was well–known as being a strong supporter of gender equality in Balochistan and had previously been warned by the Baloch militants to leave her job.
Shaheen is the second female Pakistani journalist killed by their husband in the past 10 months. On November 25, 2019, female journalist Urooj Iqbal was shot and killed by her husband for reportedly not agreeing to quit her job.
Violence against women, including women journalists, is severe in Pakistan. It is ranked 164th out of 167 countries on the Women, Peace and Security Index. It is only above Syria, Afghanistan and Yemen.
Gender-based violence is a severe threat to female journalists who should be able to do their jobs without fear. Permanently silencing the voices of female journalists is a significant blow to Pakistan's free press and democracy.
The PFUJ Secretary General Rana Muhammad Azeem said: "The PFUJ leadership condemns this brutal murder. We urge the government to investigate the murder and put the killer behind bars and to provide compensation to the family of the deceased."
The IFJ General Secretary Anthony Bellanger said: "The IFJ is saddened by the tragic killing of female journalist and gender equality advocate Shaheena Shaheen . Her murder , allegedly by her husband, highlights the complex, multi layered challenges faced by women in media in Pakistan-where they are too often not safe on the street or in their place of work, but also at home. This is a tragedy for the struggle for gender equity and the all too evident greater struggle against gender -based violence Our thoughts go to her grieving family at this time."
Written By

IFJ Asia-Pacific
The IFJ represents more than 600,000 journalists in 140 countries.
For further information contact IFJ Asia-Pacific on +61 2 9333 0946
Find the IFJ on Twitter: @ifjasiapacific
Find the IFJ on Facebook: www.facebook.com/IFJAsiaPacific
Comments