Press Statement
Pakistan: Government rearrests four acquitted for 2002 murder of Daniel Pearl
07 Apr, 2020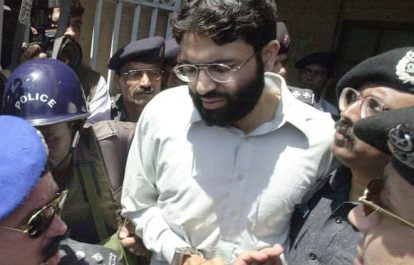 Four men accused of the murder of Wall Street Journal reporter Daniel Pearl in Pakistan in 2002 were rearrested on April 4, a day after a court controversially overturned their convictions. The International Federation of Journalists (IFJ) and its affiliates the Pakistan Federal Union of Journalists (PFUJ) and the US-based National Writers Union (NWU) jointly demand justice for Daniel Pearl, a strong appeal against the four acquittals and urgent adoption of a UN Convention to protect and defend journalists globally.
On April 2, the high court of Sindh province acquitted the four, including Briton Ahmed Omar Saeed Sheikh, who was sentenced to death in 2002 for masterminding Pearl's murder. The other three were sentenced to life. Pearl, 38, was investigating Islamist militants in Karachi, the capital of Sindh, after the September 11, 2001, attacks on the US when he was kidnapped in January 2002. He was beheaded weeks later.
Some 18 years after Pearl's murder, with Ahmed Omar Saeed Sheikh still on death row, the PFUJ said the court apparently overturned the judgment due to insufficient evidence. According to reports, the law used by Pakistan's government to keep the men in detention was often used on high-profile suspects, particularly militants, when it was unable to successfully prosecute cases in court.
In a statement Pakistan's Interior Minister said the four accused in the case were re-arrested and detained for a period of three months, pending filing of the appeal against the acquittal. The official cited concern that the released men may act "against the interest of the country".
The decision handed down by the two-judge bench on April 3 found Ahmed Omer Saeed Sheikh only guilty of Pearl's "abduction". The judges also overturned the life sentences of the three accomplices, Fahad Naseem, Sheikh Adil and Salman Saqib.
PFUJ said: "We still believe that real culprit will be punished if proven guilty. We support the government decision to file a review appeal in the Supreme Court and believe that justice will prevail".
The US-based National Writers Union (NWU) said: "This turn of events not only adds Daniel Pearl's name to the list of unsolved murdered journalists, but reopens an old wound for journalists everywhere, maybe even more in Pakistan where journalists continue to pay a very high price."
IFJ said: "This is an affront to journalists globally and particularly so in a country that has one of the highest death tolls of journalists in the world, and where 99% of murderers do so with absolute impunity. We continue to vehemently condemn a climate where justice is continually denied for most journalists. We urge every effort to secure justice for Daniel Pearl's murder, not only for the mastermind behind this brutal killing but also the henchmen. A UN Convention to protect and defend journalists is needed now more than ever."
Written By

IFJ Asia-Pacific
The IFJ represents more than 600,000 journalists in 140 countries.
For further information contact IFJ Asia-Pacific on +61 2 9333 0946
Find the IFJ on Twitter: @ifjasiapacific
Find the IFJ on Facebook: www.facebook.com/IFJAsiaPacific
Comments