Press Statement
Pakistan: High Court to indict media owner and journalists for corruption case report
05 Jan, 2022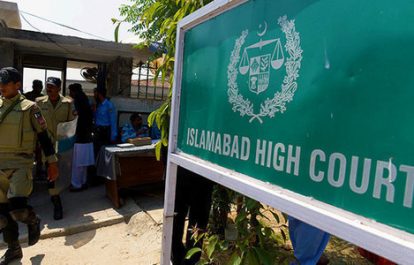 On January 7, the Islamabad High Court will frame contempt charges against The News International's owner, Mir Shakil-ur-Rahman, and two of its staff, Aamir Ghauri and Ansar Abbasi, for publishing an affidavit accusing Pakistan's former Chief Justice, Saqib Nisar, of corruption. The International Federation of Journalists (IFJ) is concerned by the court's decision to commence punitive proceedings against journalists and calls for the annulment of all charges.
Senior journalist with The News International, Ansar Abbasi, published a report on November 15 last year containing an affidavit accusing former Chief Justice, Mian Saqib Nisar, of misconduct while in office. The affidavit was prepared by the former Chief Justice of Gilgit-Baltistan, Rana Shamim, and alleged that Nisar conspired to deny bail to several leaders of the PML-N opposition leadership before the 2018 elections.
On December 28, the Islamabad High Court moved to frame contempt charges against Abbasi and Ghauri, with the case slated to continue on January 7. If successful, the charges would effectively punish journalists for conducting their professional duties, seriously jeopardising the future of reporting and the media's freedom of expression in Pakistan. Owner of Jang Geo Media Group, which oversees The News International, Mir Shakil-ur-Rahman was also implicated in the proceedings. Renowned for its critical investigations of Pakistani politicians, Jang Geo Media Group is one of Pakistan's largest media groups. Mir Shakil-ur-Rahman has previously served eight months in prison in 2020 for a decades-old property deal.
Before publishing the article, Abbasi verified that the affidavit was genuine, and was prepared by Shamim. Abbasi said in court that he only intended to report the existence of an affidavit, not about the veracity of the facts narrated in it.
Pakistan's press clubs' and journalist bodies have expressed great concern for journalists and editors targeted for reporting which is critical of authorities. According to the IFJ's South Asia Press Freedom Report 2020-2021, Pakistani media workers suffered under the harshest clampdown on dissent by any government during 2020 and 2021.
The IFJ said: "The Pakistani government's campaign against media rights and freedom of expression is driving an already beleaguered media industry into deeper crisis. The IFJ calls on Pakistani officials to cease prosecuting journalists for critical reportage. Journalism is not a crime."
Written By

IFJ Asia-Pacific
The IFJ represents more than 600,000 journalists in 140 countries.
For further information contact IFJ Asia-Pacific on +61 2 9333 0946
Find the IFJ on Twitter: @ifjasiapacific
Find the IFJ on Facebook: www.facebook.com/IFJAsiaPacific
Comments