Press Statement
Pakistan: IFJ concerns over arrested editor in chief
15 Mar, 2020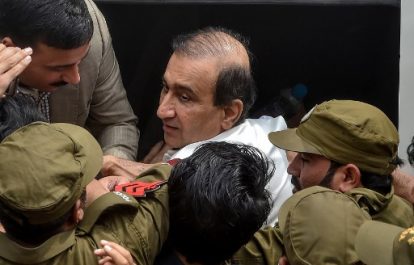 The editor in chief of Pakistan's largest media group was arrested over a 34-year old property deal following an investigation by the country's anti-corruption watchdog, the National Accountability Bureau (NAB). The International Federation of Journalists joined its affiliate, the Pakistan Federal Union of Journalists (PFUJ) in expressing grave concern about the implications of the arrest for freedom of expression and the jobs and rights of the company's workers.
Mir Shakeel Ur Rehman, the editor in chief of the Jang and Geo Media Group was arrested on 12 March following an investigation by the NAB into allegations that property purchased 34 years ago by Mr Rehman had been bought illegally. Jang Geo Media Group is one of the largest media groups in Pakistan and is famous for its critical investigations of Pakistani politicians. Ur Rehman has been the editor in chief of the group for 34 years. The PFUJ said he had been arrested despite the fact that the Islamabad High Court had ruled NAB had acted in violation of the law and their own rules.
Mr. Rehman told the New York Times that, "authorities had recently stepped up pressure on its reporters, producers, and editors, and had threatened to use the country's media regulator to shut down its television channels".
PFUJ Secretary-General Rana M Azeem expressed concern over the arrest and said: "everyone is answerable to the law of the land and the PFUJ would not put pressure on the investigating authorities but we will not let anyone affect or damage the rights of the media workers employed in the Jang media group or…use this arrest against the employees of the Jang group. We will support the rights of the employees of the group at every forum"
IFJ General Secretary, Anthony Bellanger, said: "legal procedures should never be used to silence critical journalism and whilst we respect the law we are deeply concerned about the implications of this action for freedom of expression and the rights of Jang workers".
Written By

IFJ Asia-Pacific
The IFJ represents more than 600,000 journalists in 140 countries.
For further information contact IFJ Asia-Pacific on +61 2 9333 0946
Find the IFJ on Twitter: @ifjasiapacific
Find the IFJ on Facebook: www.facebook.com/IFJAsiaPacific
Comments