Press Statement
Pakistan: Jang and Geo staff face unpaid salary crisis
21 Apr, 2020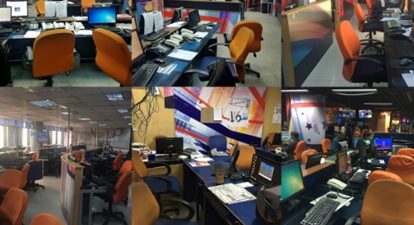 After years of industrial conflict, Jang and Geo employees continue to work without pay. The International Federation of Journalists (IFJ) and its affiliate the Pakistan Federal Union of Journalists (PFUJ) call on Jang and Geo Group's administration to immediately reinstate workers and pay all outstanding salaries.
According to PFUJ, Jang and Geo Group has terminated about 3,000 media workers and journalists as part of a "downsizing" since 2014. At present, the company has not paid salaries for more than four months
The situation is worsened by the arrest of Jang and Geo Group's editor-in-chief, Mir Shakilur Rahman for allegedly illegally obtaining government land more than 34 years ago. Rahman has been on remand since his arrest on March 12.
Last year, staff from Jang and Geo Group's news channel, Geo TV staged protests in February and May after months of unpaid salaries. The year before in 2018, the Supreme Court of Pakistan issued an order to Geo TV management to pay all pending salaries before April 30, 2018. The court threatened to shut down the TV channel if staff were not paid.  Jang and Geo Group reportedly laid off 2000 journalists in December 2018 and another 700 in 2014.
PFUJ president, GM Jamali met with Mir Shakilur Rahman on March 16 to discuss the unpaid wages resulting in an agreement for the group to pay all outstanding dues and reinstate the terminated staff.
PFUJ said : "Despite the agreement Jang and Geo Group have refused to uphold the agreement"."PFUJ warns the group to immediately clear the pending salary and reinstate the sacked journalists", PFUJ added.
IFJ said: "Media workers in Pakistan are currently facing some of the worst of the economic pressures associated with Covid-19 after struggling with years of systematic wage theft. The IFJ urge Jang and Geo Group to immediately pay the outstanding salaries and reinstate all workers".
Written By

IFJ Asia-Pacific
The IFJ represents more than 600,000 journalists in 140 countries.
For further information contact IFJ Asia-Pacific on +61 2 9333 0946
Find the IFJ on Twitter: @ifjasiapacific
Find the IFJ on Facebook: www.facebook.com/IFJAsiaPacific
Comments