Attacks on Media
Pakistan: Journalists covering quarantine centre tortured near Afghan border
26 Jun, 2020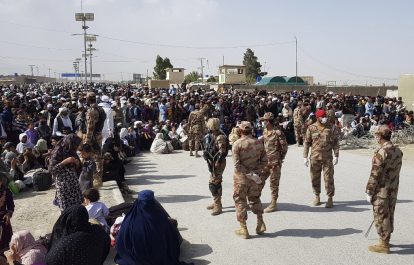 After being missing for four days, two Pakistani reporters reappeared on June 20 with their bodies covered in injuries. The International Federation of Journalists (IFJ) urges authorities to conduct an independent investigation into the torture of the two journalists. 
Abdul Mateen Achakzai, a reporter for Khyber News TV and Saeed Ali Achakzai, a reporter Samaa News TV said they were tortured for three days by the Anti-Terrorism Force operated by a paramilitary force known as the Balochistan Levies. Achakzai said the parliamentary force commanders threatened the two on WhatsApp for their coverage of the inadequate conditions in a Covid-19 quarantine centre near the city of Chaman. The deputy commission of Qala-e-Abdullah district, Bashir Barechi allege the journalists were detained for spreading misinformation and defaming him on social media.  
According to AFP, the two journalists said they were told to report to the paramilitary border police, who delivered them to the Anti-Terrorism Force. Saeed Ali Achakzai said, "I never imagined that I would have to go through this, at one point I thought I am not going to survive now, they are going to kill me." 
Balochistan's home minister Ziaullah Langove said the investigation is ongoing and "three officials who were directly involved in the incident have been suspended".
The IFJ said: "The torture of the two reporters highlights the brutal reality and fears journalists in Pakistan endure. The IFJ urges the government to hold the paramilitary force accountable and ensure an impartial and independent investigation takes place." 
Written By

IFJ Asia-Pacific
The IFJ represents more than 600,000 journalists in 140 countries.
For further information contact IFJ Asia-Pacific on +61 2 9333 0946
Find the IFJ on Twitter: @ifjasiapacific
Find the IFJ on Facebook: www.facebook.com/IFJAsiaPacific
Comments