Press Statement
Pakistan: Journalists strike over unpaid salaries
29 Jul, 2019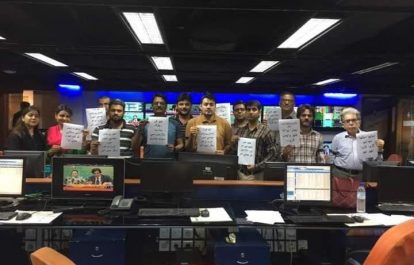 Journalists in Pakistan are facing financial instability with reports that some have not been paid for over three months, while others have had their salary cut between 10-40 percent in the past six months. The International Federation of Journalists (IFJ) stands with its affiliate the Pakistan Federal Union of Journalists (PFUJ) in demanding media houses immediately pay outstanding wages, and call on the government to take action to resolve the growing financial instability.
The issue of withheld salaries was raised as early as February 2019 and remains an on-going issue. On February 1, journalist from Geo News staged protests in newsrooms across Pakistan demanding unpaid salaries. They also launched strikes, which came after several months waiting for salary payments. While journalists at Dawn have had their salaries cut between 10-40 percent in the past six months. Similarly Dawn journalists held country-wide protests against the salary cuts and mass layoffs.
PFUJ President GM Jamali and Secretary General Rana Azeem have condemned the delayed salaries for the media workers in the newsrooms. In addition of this, PFUJ also has demanded the government to take this issue seriously and ensure the pending salaries will be paid shortly.
"As it is the Pakistani media is going through an extremely tough time with increased pressure from anti-democratic forces that are trying to silence the media, financial pressures are only adding to this. If the pending salaries are not resolve immediately, we will be forced to call for a nationwide go-slow protest followed by 'shutter down' protest," PFUJ President GM Jamali said in the statement.
The IFJ said: "We stand in solidarity with PFUJ and our colleagues in Pakistan in demanding action for the ongoing financial instability that they are facing. Journalist must be paid for their work, and we demand those withholding wages to immediately rectify the situation."
Written By

IFJ Asia-Pacific
The IFJ represents more than 600,000 journalists in 140 countries.
For further information contact IFJ Asia-Pacific on +61 2 9333 0946
Find the IFJ on Twitter: @ifjasiapacific
Find the IFJ on Facebook: www.facebook.com/IFJAsiaPacific
Comments