Press Statement
Pakistan: Killer of Wali Khan Babar arrested after a decade on the run
16 Jun, 2020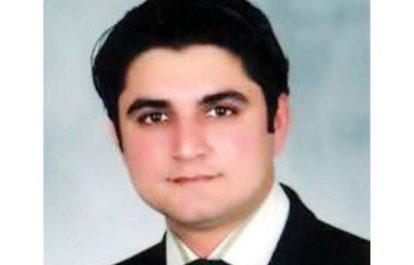 Nearly a decade after the murder of Geo News journalist Wali Khan Babar, Pakistan police finally arrested one of his murderers 'at large' in an operation on June 15. The International federation of Journalists (IFJ) and its Pakistan affiliate the Pakistan Federal Union of Journalists (PFUJ) welcome the arrest and urge the Pakistan government to move proactively to coordinate stronger action to end the country's dire record of impunity for attacks on journalists.
Pakistan police arrested Kamran (alias Zeeshan Shani) in a joint raid on June 15, six years after he and five others killed the journalist. Kamran absconded after Geo news journalist Wali Khan Babar was gunned down in the Liaquatabad area of Karachi on January 13, 2011. He was finally captured during a raid carried out after a tip off from a federal intelligence agency. With his arrest, all six perpetrators involved in killing of the journalist have been brought to justice.
On March 1, 2014, an anti-terrorism court (ATC) convicted Naveed Polka, Muhammad Ali Rizvi, Faisal Mahmood, and Mohammad Shahrukh Khan to life imprisonment, and ordered death sentences in absentia for Kamran alias 'Zeeshan' and Faisal Mehmood alias 'Mota' for the killing of the journalist.
The murder of Wali Khan Babar became a pivotal case in the country, noted by strong efforts by Babar's family to secure justice and with strong coordination from journalists, unions and the media community. But it was also a case that gathered a deathly toll on the path to justice. Within a week of murder of the Geo News journalist, five witnesses to the murder, including two policemen and an informer, were shot dead. The prosecutor in the case, Naimat Ali Randhawa, was also killed in September 26,  2013.
According to Kamran's confession, the Pakistani political party Muttahida Qaumi Movement (MQM)'s London faction, of which he was a member, was involved in the plot to kill the journalist.  According to the police report, Babar was killed because the MQM, a dominant political force in Pakistan, feared that the slain journalist would report on anti-MQM stories.  As a high profile crime reporter for Geo News, Babar  had written numerous hard-hitting investigative stories on political turf wars, riots, extortion, targeted killings, electricity theft and land-grabbing.
PFUJ said: "The PFUJ welcomes the arrest of Wali Khan Babar's murderer. We demand that the murderer is brought before the court of law."
IFJ said: "Justice delayed is justice denied. At last a killer in absentia who committed the brutal murder of Wali Khan Babar has been captured. But sadly this is one of the just a handful of cases where justice has been delivered for the killing of a journalist in this country and it came at a great loss of further lives.  Pakistan has a long-running horrific impunity record for letting journalist killers get away with their crimes. We hope this case can lead to much needed reforms on journalist murder investigations and prosecutions."
Written By

IFJ Asia-Pacific
The IFJ represents more than 600,000 journalists in 140 countries.
For further information contact IFJ Asia-Pacific on +61 2 9333 0946
Find the IFJ on Twitter: @ifjasiapacific
Find the IFJ on Facebook: www.facebook.com/IFJAsiaPacific
Comments