Press Statement
Pakistan: Media workers attacked across the nation during political protests
27 May, 2022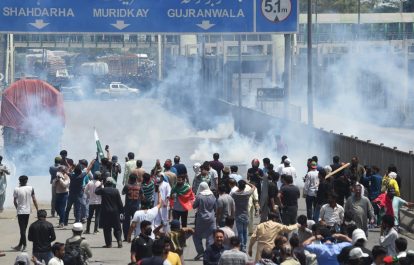 Multiple media workers were attacked during protests by members of political party Pakistan Tehreek e Insaf (PTI) on May 25 and 26 in several cities across Pakistan. The International Federation of Journalists (IFJ) and its Pakistan affiliate, the Pakistan Federal Union of Journalists (PFUJ), condemn the attack on journalists, media workers and media houses and urge the newly formed Pakistani government to apprehend the perpetrators and further protect journalists.
n Karachi, Lahore, Islamabad, and other cities, numerous journalists, cameramen, and photographers were assaulted during the PTI demonstrations.
In Karachi's Numaish Chowrangi area, Asif Hassan, a 45-year-old photographer for Agence France Presse (AFP), was hit in the head by a stone intended for police officers. He was taken to Aga Khan University Hospital where he received five stitches to treat the wound. Hassan is said to be in a stable condition.
Reporters for Samaa TV were also attacked and harassed while covering the demonstrations in the Numaish Chowrangi area. Protestors abused female journalist, Zamzam Saeed, Yasir Hussain, and cameraperson Imran Khan while they were filming for Samaa TV.
The Samaa TV transmission van was also pelted with stones as the reporting team returned from interviewing PTI Sindh President Ali Zaidi.
In the capital city of Islamabad, several media vans were damaged. Protesters attacked an Aaj News and a Peshawar Neo News DSNG van with sticks and smashed the glass of a Hum News DSNG van. The Geo News office in Islamabad was also attacked with rocks.
A similar incident occurred in Lahore's Liberty Chowk, when the Aaj News DSNG van's windows were shattered and the assistant DSNG operator was physically assaulted.
Renowned photojournalist Amjad Hussain was also attacked during the protests.
The Pakistan Federal Union of Journalists (PFUJ) has strongly condemned the violence against journalists during the PTI protests and the attack on the Geo News office. President GM Jamali and General Secretary Rana Muhammad Azeem have criticised the political party's leaders and supporters for attacking media houses and staff.
According to the IFJ's South Asia Press Freedom Report 2021-2022(SAPFR), Pakistani media practitioners faced several safety related challenges over the last year. These included a continuing spate of physical attacks that resulted in the murder of five journalists, including a citizen journalist; assault on and injuries sustained by at least six journalists; arrest or abduction of at least seven journalists; legal cases or notices faced by at least 15 journalists; attacks or intimidation of at least five media establishments; specific threats against journalists in at least four instances; and several instances of coordinated or violent online harassment and intimidation of journalists and other digital information practitioners, including women.
The PFUJ said:  "We have been requesting the government authority to look into and provide security to the media workers and ensure freedom of speech and expression in the country."
The IFJ said: "Pakistan's government must ensure the safety and security of journalistsas required by law, and condemn all assaults on media workers so that they can report without fear. The IFJ calls on Pakistan's authorities to fulfil their international obligations under the Pakistani Constitution on media and press freedom."
Written By

IFJ Asia-Pacific
The IFJ represents more than 600,000 journalists in 140 countries.
For further information contact IFJ Asia-Pacific on +61 2 9333 0946
Find the IFJ on Twitter: @ifjasiapacific
Find the IFJ on Facebook: www.facebook.com/IFJAsiaPacific
Comments