Press Statement
Pakistan: Network forced to pull interview with ex-president
29 Jul, 2019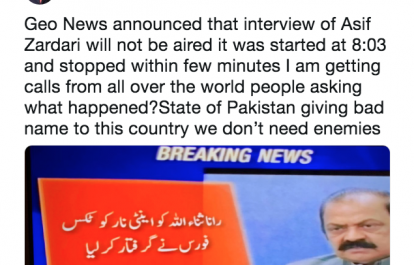 An interview with Pakistan's former president was taken off air within minutes of commencing broadcast on Geo News on July 1, drawing criticism of high level interference and attempt at controlling Pakistan's media. The International Federation of Journalists (IFJ) joins its affiliate the Pakistan Federal Union of Journalists (PFUJ) to strongly condemn the censorship of the broadcast and criticised attempts to silence further media debate following the incident.
The interview by leading Pakistani journalist Hamid Mir with Pakistan People's Party (PPP) chairman Asif Ali Zardari commenced airing on Capital Talk, a popular talk show on Geo News, when the network abruptly stopped the program. Geo had earlier promoted the major interview with the former president for two days leading up to the broadcast in its news bulletins, according to PFUJ.
Zardari is currently in the custody of Pakistan's anti-corruption agency, theNational Accountability Bureau (NAB), on charges of corruption. PPP officials say the investigation into alleged false bank accounts and money laundering against Zardari is intended to put pressure on the party and help Prime Minister Imran Khan, who is seen to be favoured by the country's powerful military. Khan's other rival, ex-premier Nawaz Sharif, is also in jail on corruption charges.
Following the pulled broadcast, journalist Hamid Mir was invited by Dawn TV to participate in a talk show to discuss the interview, but later tweeted that the program's production team advised him they were under pressure not to go ahead with an interview with him.
"I was sitting in front of a Dawn News camera for 11 o clock show and then I received a call that @ZaraHatKay_Dawn team is under pressure not to interview me on Asif Ali Zardari issue . . . somebody running and controlling Pakistan on telephone calls," he tweeted.
It is not the first time Geo News has been put under pressure. Last year, it was blocked in major parts of the country, including Karachi, Lahore, and Multan. Mir is a senior journalist in Pakistan and was a target of multiple gunshot attack in 2014 following threats from Pakistan's Inter-Services Intelligence (ISI).
The PFUJ strongly condemns the censorship, describing it as a blow to freedom of expression. "Such attempts to stop journalists from expressing themselves is in clear violation of the Constitution of Pakistan, which is extremely alarming," PFUJ said.
The IFJ said: "The IFJ condemns the suppression of freedom of speech in Pakistan this week, which can only be viewed as an attempt to block the public's right to know. Politicians and government agencies must respect the independence of media and respect journalists' rights, including their right to speech."
Written By

IFJ Asia-Pacific
The IFJ represents more than 600,000 journalists in 140 countries.
For further information contact IFJ Asia-Pacific on +61 2 9333 0946
Find the IFJ on Twitter: @ifjasiapacific
Find the IFJ on Facebook: www.facebook.com/IFJAsiaPacific
Comments