Press Statement
Pakistan: New Cyber Law ordinance rejected by Pakistani media stakeholders
22 Feb, 2022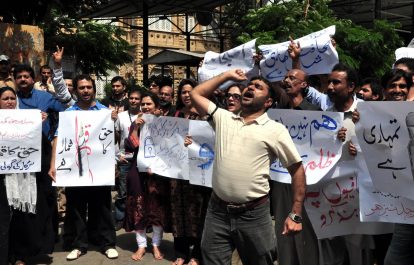 Pakistani media stakeholders have widely condemned the presidential ordinance amending the Prevention of Electronic Crimes Act (PECA) laws, which they claim will stifle the flow of information in the country and limit free, independent, and responsible media. The International Federation of Journalists (IFJ) and its Pakistan affiliate, the Pakistan Federal Union of Journalists (PFUJ), demand that the ordinance be repealed immediately.
The Joint Action Committee (JAC) of media stakeholders, comprising representatives of media organisations All Pakistan Newspapers Society (APNS), Council of Pakistan Newspapers Editors (CPNE), Pakistan Broadcasters Association (PBA), Pakistan Federal Union of Journalists and Association of Electronic Media Editors and News Directors (AEMEND), collectively issued a statement condemning the amendments to the PECA, stating that they blatantly stifle media independence, freedom of speech and dissenting voices.
The Pakistani Government recently issued a presidential ordinance in which section 20 of the PECA was amended to increase the jail term for defaming any person or institution from three to five years. Further, the complainant has been defined as the aggrieved person, their authorised representative, their guardian if they are a minor, or "a member of the public in respect of a public figure or a holder of public office".
Online public defamation is now a cognisable and a non-bailable offence. The definition of a "person" has been broadened to include any company, association, or group of people, whether incorporated or not, as well as any institution, organisation, authority, or other body established by the government under any law or otherwise.
The committee said that all media bodies will take any and all legal actions to challenge any attempt to curb media's independence and its right to raise voice against any steps to curb freedom of expression as guaranteed in the constitution. Pakistani media stakeholders claimed that it "would go against the democratic norms that Pakistan should uphold as a democracy".
In protest, members of the JAC walked out of the Information Ministry meeting on Monday in protest of the PECA Amendment Ordinance. The JAC said, if necessary, it will use the full force of its constituent bodies and individual members to oppose the amendments.
According to the IFJ's South Asia Press Freedom Report 2020-2021, during 2020 and 2021, Pakistan experienced the harshest crackdown on dissent by any government. The report found that media rights and freedom of expression were severely harmed, with the government rushing to deprive the media of both freedom and funds, further destabilising an already troubled media industry.
PFUJ General Secretary, Rana Muhammad Azeem, said: "These amendments are another attempt to curb freedom of speech and expression and announced to challenge it in the court of law."
The IFJ said: "This new ordinance would essentially deprive Pakistan of the media freedoms established in the Pakistani Constitution, which have been fought for and defended by journalists and unions for decades. The IFJ urges the Pakistani government to ensure freedom of expression in accordance with the Constitution of Pakistan and its international commitments and obligations."
Written By

IFJ Asia-Pacific
The IFJ represents more than 600,000 journalists in 140 countries.
For further information contact IFJ Asia-Pacific on +61 2 9333 0946
Find the IFJ on Twitter: @ifjasiapacific
Find the IFJ on Facebook: www.facebook.com/IFJAsiaPacific
Comments