Press Statement
Pakistan: PFUJ Secretary Rana Azeem gets life threats
14 Dec, 2022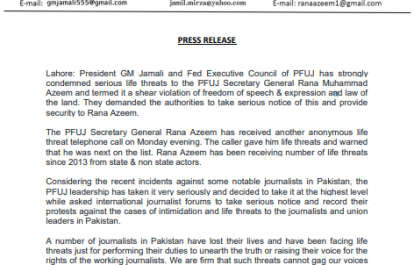 President GM Jamali and Fed Executive Council of PFUJ has strongly condemned serious life threats to the PFUJ Secretary General Rana Muhammad Azeem and termed it a shear violation of freedom of speech & expression and law of the land. They demanded the authorities to take serious notice of this and provide security to Rana Azeem.
The PFUJ Secretary General Rana Azeem has received an anonymous life threat telephone call on Monday evening. The caller gave him life threats and warned that he was next on the list.
Considering the recent incidents against some notable journalists in Pakistan, the PFUJ leadership has taken it very serious and decided to take it at he highest level while asked international journalist forums to take serious notice and record their protests against the cases of intimidation and life threats to the journalists and union leaders in Pakistan.
A number of journalists in Pakistan have lost their lives and have been facing life threats just for performing their duties to unearth the truth or raising their voice for the rights of the working journalists. We are firm that such threats can not gag our voices for the rights," the PFUJ President GM Jamali remarked.
PFUJ Secretary Information & Coordinator
Download
Written By

Pakistan Federal Union of Journalists
Pakistan Federal Union of Journalists 8A Aboot Road, Lahore, Pakistan Phone: +92 321 4613322
Comments