Press Statement
Pakistan: PFUJ supports evacuating Afghan journalists
20 Apr, 2022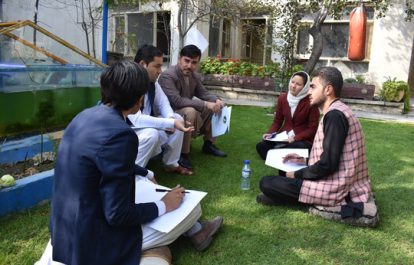 The Pakistan Federal Union of Journalists (PFUJ) has been working to provide every possible support to the Afghan Journalists to evacuate Afghanistan and remain in Pakistan for an interim period before leaving for European countries. Some Afghan journalists have contacted PFUJ directly while others have asked for help via the IFJ. The PFUJ has arranged with the Pakistan Information Ministry for the expedited approval of Pakistani Visas for Afghan Journalists, and as many as fifty journalists have been assisted with their applications. 
The PFUJ nominated its Information Secretary, Ihtsham ul Haq, to coordinate these cases. A residential building has been rented for Afghan families where they are provided with accommodation and food during their interim stay. The PFUJ and IFJ has arranged to deliver supporting funds to Afghan journalists who opt to live with their relatives in Islamabad. With the help of PFUJ's regional union, the Rawalpindi Islamabad Union of Journalists (RIUJ), services have been provided to transfer Afghan journalists from the airport to the residence.
The families of families of four Afghan journalists have been provided accommodation and food for two to three months in Islamabad, and the PFUJ has helped them depart from Islamabad to their final destination abroad. Three families, comprising fifteen people, are currently staying at the PFUJ facility in Islamabad, with these families accommodated on the recommendation of the IFJ General Secretary and Deputy General Secretary.
Written By

IFJ Asia-Pacific
The IFJ represents more than 600,000 journalists in 140 countries.
For further information contact IFJ Asia-Pacific on +61 2 9333 0946
Find the IFJ on Twitter: @ifjasiapacific
Find the IFJ on Facebook: www.facebook.com/IFJAsiaPacific
Comments