Press Statement
Pakistan: Politician punches press club leader
29 Jul, 2019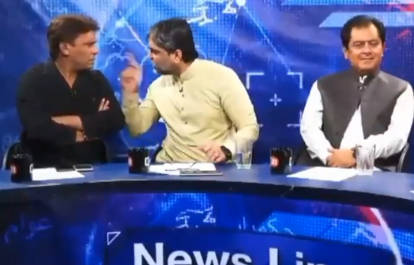 The president of Karachi Press Club (KPC) was punched and pushed from a chair by a politician from Pakistan's ruling party, Pakistan Tehreek-e-Insaf (PTI) during a live TV broadcast on June 24. The International Federation of Journalist (IFJ) and its Pakistan affiliate, the Pakistan Federal Union of Journalists (PFUJ), condemn the physical assault and urge the PTI government and authorities to take formal action against the perpetrator.
PTI leader Masroor Siyal launched the assault on the KPC president, Imtiaz Khan Faran, during their appearance as panellists on the live talk news program News Line with Aftab Mugheri on K21 News. Footage of the attack shows a heated argument break out between the two panellists, immediately before Siyal stands up to push over the chair of the KPC leader. As studio crew jumped in to break up the ensuing melee, he was further seen hurling punches at the press club president.Footage of the encounter quickly went viral on social media, triggering national criticism of Siyal and the party.
The PFUJ called for a nationwide protest against the attack, encouraging journalists to boycott all parliamentary proceedings and block all further PTI media coverage until it took action against the perpetrator. PFUJ and its affiliates, including KPC, have also banned PTI leaders from entering any press club in Pakistan.
PTI leader and national assembly politician Ali Hadier Zaidi came forward condemning the act on Twitter and called for "the strongest action in the party disciplinary committee".
PFUJ President, GM Jamali, said the incident was "an attack on journalism, free speech and expression in Pakistan". He said Pakistan's media fraternity would continue to do its job to speak the truth and will not be cowered down by threats.
"PFUJ demands that the PTI Government and the Prime Minister consider this assault as a serious problem and take immediate action against their members. We also demand an official apology to Karachi Press Club President for this brutal attack," said Jamali.
The IFJ said: "We join PFUJ in condemning this blatant and brazen attack on a senior press club leader in the most public forum possible. The IFJ urges the PTI to heed calls from Pakistan's media community and its own leaders that such acts of violence should not and cannot be tolerated. Authorities in Pakistan must ensure that appropriate action is also taken to bring justice against this attack."
Written By

IFJ Asia-Pacific
The IFJ represents more than 600,000 journalists in 140 countries.
For further information contact IFJ Asia-Pacific on +61 2 9333 0946
Find the IFJ on Twitter: @ifjasiapacific
Find the IFJ on Facebook: www.facebook.com/IFJAsiaPacific
Comments