Press Statement
Pakistan: Report highlights serious flaws in Mujahid murder investigation
18 Jun, 2021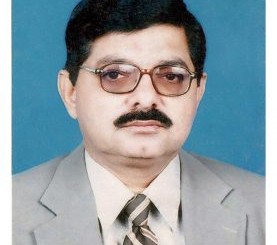 An investigation by media freedom organizations has highlighted the police investigation failures following the murder of senior journalist Zubair Mujahid on November 2007. The International Federation of Journalists (IFJ) and its Pakistan affiliate the Pakistan Federal Union of Journalists (PFUJ) urge the re-investigation of the case.
The report "Breaking the Silence: An Investigation into the Murder of Zubair Mujahid"  as part of  'A Safer World For The Truth' initiative reveals how police investigators failed to obtain forensic report on the bullet that killed Zubair Mujahid, nor did it secure statements  from key witnesses.
Zubair Mujahid, a correspondent for Daily Jang, Pakistan's largest Urdu newspapers, was killed on 23 November 2007 as he returned home on the back of a friend's motorcycle.  During his career, the journalist exposed police irregularities which led to a dismissal of many police officers from their posts. He also wrote a weekly column on "Crime and Punishment" which revealed mistreatment of authorities and landowners to the poor.
Following his murder, the local police department in Mirpurkhas district opened file for the investigation but failed to find the perpetrators. Another investigation by the Crime & Investigation Branch in Hyderabad again failed to further the investigation.
Khalid Sadaf, the brother of Zubair Mujahid, told the IFJ that Zubair Mujahid was a thorn in the side for police, administration and drug dealers and that this nexus resulted in his eventual murder. "As he didn't compromise on his reporting, the Supreme Court took several Suo motu actions on his news. His assassination has created a vacuum in the Pakistani media," Sadaf said.
According to the IFJ's South Asia Press Freedom Report 2020-2021 found that despite investigations being initiated by police, prosecution is almost null or inconclusive in most of the cases on crimes against journalists in South Asia.
PFUJ general secretary, Rana Muhammad Azeem, said: "We stand with the family of Zubair Mujahid and demand the authorities to re-investigate the journalist's murder case under supervision of a powerful judicial commission so that justice be done and the culprits be put behind bars."
The IFJ said: "Echoing the calls in this important report, the IFJ urges Pakistani authorities to acknowledge the flaws in this investigation and re-open the file on Zubair Mujahid's murder."
Written By

IFJ Asia-Pacific
The IFJ represents more than 600,000 journalists in 140 countries.
For further information contact IFJ Asia-Pacific on +61 2 9333 0946
Find the IFJ on Twitter: @ifjasiapacific
Find the IFJ on Facebook: www.facebook.com/IFJAsiaPacific
Comments