Press Statement
Pakistan: Senior journalist allegedly abducted in Lahore
17 May, 2022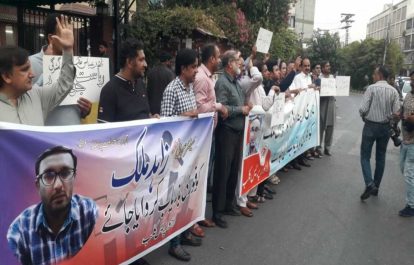 Zahid Abbas Malik, a senior journalist with Lahore editorial, the Daily Dunya, was allegedly abducted by unidentified on May 11 and is yet to be located. The International Federation of Journalists (IFJ) and its Pakistan affiliate, Pakistan Federal Union of Journalists (PFUJ), condemn the journalist's kidnapping and urge the Pakistani government to locate and release him immediately.
According to the PFUJ, Malik was reportedly abducted on May 11 from the Ichhra area of Lahore. In the days since, he has been uncontactable by mobile phone.
The journalist's hostel in Ichhra was allegedly searched by an unidentified group of individuals before his disappearance, in evidence of a premeditated kidnapping. The journalist's family members reportedly suspect the Pakistani intelligence agency of being involved in the incident.
Malik's cousin, Aamir Raza, filed a formal case at the Ichhra police station after the incident, demanding the journalist's immediate rescue, calling on the authorities to bring the perpetrators to justice. Despite police investigation, Malik's whereabouts remain unknown
In statements responding to the incident, both the PFUJ and the Lahore Press Club (LPC) said the organisations would launch nationwide street protests if the government fails to find Malik's location and release him immediately. The All Pakistan Newspapers Society (APNS) and Rawalpindi Islamabad Editors Council also condemned the journalist's abduction.
According to the IFJ's South Asia Press Freedom Report 2021-22, Solidarity and Survival: The Story of South Asia, 9 Pakistani journalists were arrested from May 2021 to April, 2022.
The PFUJ said: "The PFUJ leadership takes every possible step for the freedom of press and if the abducted journalist is not recovered soon, there will be protests across the country."
The IFJ said: "The abduction of a journalist is a serious media rights violation and contravenes both press freedom and international human rights standards. The IFJ urges the Pakistani government and authorities to immediately begin investigating the case, determine the journalist's whereabouts and punish those involved in his kidnapping."
Written By

IFJ Asia-Pacific
The IFJ represents more than 600,000 journalists in 140 countries.
For further information contact IFJ Asia-Pacific on +61 2 9333 0946
Find the IFJ on Twitter: @ifjasiapacific
Find the IFJ on Facebook: www.facebook.com/IFJAsiaPacific
Comments