Press Statement
Pakistan: Senior journalist arrested in anti-terrorism case
22 Mar, 2023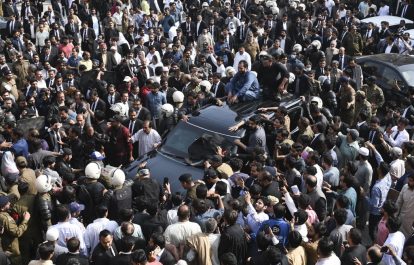 Pakistani state authorities arrested Bol News Bureau Chief Siddique Jan from outside the outlet's office in Islamabad on March 20, with the senior journalist appearing before an anti-terrorism court in connection with a nearby riot during the court appearance of former prime minister Imran Khan. The International Federation of Journalists (IFJ) and its affiliate, the Pakistan Federal Union of Journalists (PFUJ), condemn Jan's arrest and urge the authorities to immediately ensure his immediate release.
On March 20, Jan was detained outside the Bol News head office in Islamabad, with CCTV footage showing approximately thirty plainclothes officers placing the journalist in a vehicle to an undisclosed location.
The senior journalist was accused of provoking violence against law enforcement by posting videos of police shelling supporters of Imran Khan and the Pakistan Tehreek-e-Insaf (PTI) party outside the city's Federal Judicial Complex (FJC) on social media, as the former prime minister appeared in court in a corruption case filed by the Election Commission of Pakistan.
Jan was moved to Ramna Police Station, where a First Information Report (FIR) had been registered against him for inappropriate behaviour and incitement to violence. The journalist had already raised concerns that he may be arrested by law enforcement agencies.
He appeared before an anti-terrorism court on March 21, where the journalist's lawyers said he had covered Khan's arrival at the FJC from the nearby rooftop of the Chaudhry Plaza, along with ten other journalists. In footage presented to the court and circulated on social media, Jan is shown requesting a police officer to stop firing tear gas canisters into the crowd due to the risk of retaliation from the PTI supporters.
The court remanded Jan in police custody for one day to be taken to Lahore to conduct a forensics test.
Prior to his arrest, Pakistan's Federal Investigation Agency (FIA) Cybercrime Branch served Jan a notice accusing him of incitement on social media. The journalist challenged the decision at the Islamabad High Court on March 15, with the court ordering the FIA and the Islamabad Police to stop the harassment against him.
Bol News anchor Imran Riaz Khan was similarly arrested in early February, after being investigated by the FIA's cyber authority. According to the network, transmissions from Bol news have been suspended in various cities across Pakistan, with ARY News also facing suspension earlier in March.
Pakistan Federal Union of Journalists (PFUJ) President GM Jamali and Secretary General Rana Muhammad Azim strongly condemned Jan's arrest. The PFUJ leadership said "illegal arrests of media workers are unacceptable and cause concern in the entire media community. Jan's arrest in front of his office despite the security guarantee given by the Supreme Court is not only illegal but is tantamount to curtailing the freedom of the media."
The IFJ said: "As the number of complaints filed against journalists increases, so do concerns for press freedom in Pakistan. The government must respect the fundamental right to freedom of expression and protect media workers from harassment, intimidation, and arbitrary detainment. The IFJ condemns the arrest of Siddique Jan and urges the authorities to ensure that journalists can report on matters of public interest without fear of retaliation or persecution."
Written By

IFJ Asia-Pacific
The IFJ represents more than 600,000 journalists in 140 countries.
For further information contact IFJ Asia-Pacific on +61 2 9333 0946
Find the IFJ on Twitter: @ifjasiapacific
Find the IFJ on Facebook: www.facebook.com/IFJAsiaPacific
Comments