Press Statement
Pakistan: Senior Pakistani journalist killed in Kenya
25 Oct, 2022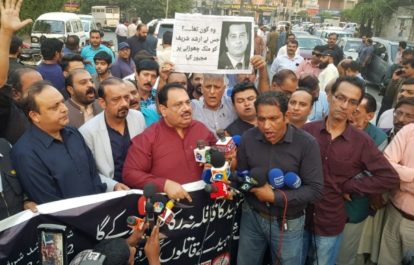 According to Kenyan police reports, Sharif was fatally shot by police while driving to Nairobi, Kenya on October 23. After Sharif and his brother allegedly drove through a security roadblock, officers from Kenya Police Service's paramilitary wing opened fire on the vehicle, shooting a total of nine rounds, with one hitting Sharif through the back of the head.
Police had formed a roadblock using small stones following reports of an incident of car theft and child kidnapping. Kenyan authorities claimed the killing was an accident and expressed regret at the incident, with Kenya's Independent Police Oversight Authority launching an immediate probe.
Sharif fled his home country in August after multiple sedition cases were filed against him in different regions of Pakistan. Sharif was one of several ARY News employees charged by Pakistani authorities after the station broadcast an interview with Shahbaz Gill, aide of former Prime Minister Imran Khan. During the interview, Gill made comments critical of the military, considered to be "seditious" and a "threat to national security" by the ruling government.
Sharif's killing has been met with protests and calls for investigation from journalists, media rights and civil society organisations. In Pakistan, the PFUJ launched a nationwide series of protests demanding an independent, transparent, and thorough investigation into Sharif's murder and compensation for his family.
Sharif, who has worked for numerous national and international media outlets, was known for his investigative journalism and as an outspoken critic of Pakistan's government. He had relocated from Pakistan to Dubai, before moving to Kenya. In 2019, he received the Presidential Pride of Performance award for his contributions to journalism from current Pakistani president Arif Alvi.
PFUJ President, GM Jamali, and Secretary General, Rana Azeem, said: "The PFUJ has grave concerns over the suspicious killing of famous anchor person Arshad Sharif and demands the authorities conduct a transparent and comprehensive investigation. The PFUJ has also demanded the government of Pakistan form a high-level committee, with representation from IFJ & PFUJ members. We show our sympathy with the family of Arshad Sharif and assure them of our fullest support in this testing time."
KUJ Secretary General, Erick Oduor, said: "The KUJ condemns the killing of Pakistani journalist Arshad Sharif, in a shootout incident, which Kenya police have admitted was carried out by General Service Unit officers in an ambush following a signal over car theft/abduction. From the police record, there is more than meets the eye in the death of Mr Sharif and we demand a thorough investigation to unravel the motive of the shootout. In the meantime, we demand the immediate arrest of the officers who were involved in this incident and charged in court for the killing of Mr Sharif. We send our heartfelt condolences to Mr Sharif's family and the Pakistani media fraternity."
IFJ General Secretary, Anthony Bellanger, said:"Journalists should be able to live without fear of political retribution or assassination. The IFJ strongly condemns the killing of Arshad Sharif and demands a thorough investigation into his death."
Written By

IFJ Asia-Pacific
The IFJ represents more than 600,000 journalists in 140 countries.
For further information contact IFJ Asia-Pacific on +61 2 9333 0946
Find the IFJ on Twitter: @ifjasiapacific
Find the IFJ on Facebook: www.facebook.com/IFJAsiaPacific
Comments