Press Statement
Pakistan: Talk show host suspended following military pressure
02 Jun, 2021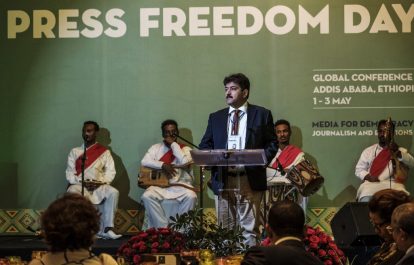 Television talk show host, Hamid Mir, was taken off air on May 31 after he gave a speech critical of the Pakistani military at a rally protesting an attack on another journalist. The International Federation of Journalists (IFJ) condemns the intimidation of the journalist and urges authorities to respect freedom of expression.
Mir, hosted 'Capital Talk', a prime time TV show until May 31 when Geo News suspended him. According to a statement issued by Geo News and Jang group Mir was suspended for speaking at the rally, resulting "in a backlash from different segments of society". A Geo News TV spokesman told Reuters there is pressure from the military to terminate Mir due to his criticisms.
In a tweet, Mir revealed his family is now being threatened, he has survived an assassination attempt, referencing when he was shot in 2014, and he has lost his job twice, however he would not be silenced. Mir is known for being the first Pakistani journalist to interview Osama bin Laden, the founder of the pan-Islamic militant organization al-Qaeda, after the 9/11 attacks.
During a rally organised on May 29 protesting the attack of journalist, Asad Ali Toor, Mir delivered a powerful speech indicating the suspected role of the Pakistani military in the attack. Asad Ali Toor, is an Aaj television journalist and vlogger who was attacked in his house on May 25 by three gunmen.
According to the IFJ's South Asia Press Freedom Report 2020- 2021, nine journalists and media workers were murdered and 36 media rights violations were committed in Pakistan from May 2020 to April 2021.
The IFJ said: "Pressuring a media house to suspend a journalist is a clear attempt from the military to undermine the media's independence and silence critical voices. The IFJ urges the government to respect the media's independence and for Geo News to allow Mir to resume work as the talk show host."
Written By

IFJ Asia-Pacific
The IFJ represents more than 600,000 journalists in 140 countries.
For further information contact IFJ Asia-Pacific on +61 2 9333 0946
Find the IFJ on Twitter: @ifjasiapacific
Find the IFJ on Facebook: www.facebook.com/IFJAsiaPacific
Comments