Press Statement
Pakistan: Three TV channels taken down after airing opposition leader's live speech
29 Jul, 2019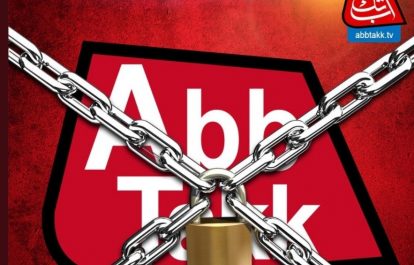 Three television channels in Pakistan were taken off air after broadcasting an "unedited live telecast" of an opposition politician on Saturday July 6. The International Federation of Journalists (IFJ) joins its affiliates the Pakistan Federal Union of Journalists (PFUJ) to condemn the actions by Pakistan's media regulatory authority.
The speech by the vice president of the Pakistan Muslim League-Nawaz (PML-N) Maryam Nawaz, was recorded at a press conference in Lahore. The Pakistan Electronic Media Regulatory Authority (PEMRA) issued notices to 21 TV channels and has since taken three channels – Abb Takk, 24 News HD and Capital TV – off air. The media regulatory body also directed networks to refrain from airing any part of the press conference, threatening it would be considered as a "deliberate attempt to violate" the directives and orders of the judiciary.
In a Twitter post on July 7, PERMA said the unedited live telecast of Ms Nawaz's speech was directed "against [the] judiciary and state institutions" and violated PEMRA's law and code of conduct. In the speech Ms Nawaz, the daughter of former Prime Minister Nawaz Sharif, claimed that the judge of the court had been "pressurised and blackmailed" to convict her father. She added that his subsequent jail sentence was a conspiracy  planned before the trial started. During the press conference, Ms Nawaz was accompanied by PML-N's leaders.
PFUJ president, GM Jamali, and secretary general, Rana Mohammad Azeem, condemned PERMA's decision to take the three channels off air.
PFUJ said: "We are informing the government that if PEMRA does not stop taking unnecessary steps against the media, journalists across the country will raise their voices in protest."
The Karachi Union of Journalists (KUJ) also condemned the action: "PEMRA was acting like a dictator reminding us of the time when there was no freedom of the media. The government is unable to tolerate any criticism," KUJ said in a statement.
The IFJ said: "We condemn the decision by PEMRA to block Abb Takk, 24 News HD and Capital TV. This censorship violates media freedom in Pakistan and stifles critical political debate. The IFJ and PFUJ demand the stations be reinstated immediately."
Written By

IFJ Asia-Pacific
The IFJ represents more than 600,000 journalists in 140 countries.
For further information contact IFJ Asia-Pacific on +61 2 9333 0946
Find the IFJ on Twitter: @ifjasiapacific
Find the IFJ on Facebook: www.facebook.com/IFJAsiaPacific
Comments