Press Statement
Pakistan: two cameramen killed in suicide blast
09 Aug, 2016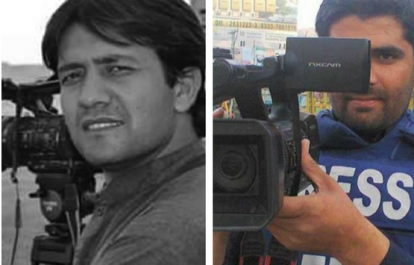 The International Federation of Journalists (IFJ) joins the Pakistan Federal Union of Journalists (PFUJ) in condemning the killing of two cameramen in the Civil Hospital bomb blast in Quetta, the capital of Balochistan province in Pakistan. The IFJ demands an immediate investigation into the blast to punish those responsible for the attack.
On Monday August 8, 30 year old Shahzad Khan, a cameraman with Aaj TV, and 26 year old Mahmood, a cameraman of Dawn News, were killed, while a reporter with Dunya News, Fareed Ullah, was seriously injured when a bomb went off on the gate of the emergency department of a civil hospital. The blast killed at least 53 others and injured over 30 people. The journalists were at the scene covering the mourning of advocate Bilal Anwar Kasi, who was shot dead earlier today. Mahmood succumbed from his injuries some hours after the attack.
Khan and Mahmood are the 4th and 5th journalists to be killed in Pakistan and the first two in Balochistan province in 2016.
The PFUJ said: "The PFUJ strongly condemns the suicide blast at the Civil Hospital in Pakistan's southwestern city of Quetta, in which Shahzad and Mahmood were killed and several journalists were injured. This incident has once again revealed that journalists were not safe in the country and despite repeated appeals to the government, no steps were taken to improve the security for the working journalists."
Philippe Leruth, the IFJ President, said: "I am extremely saddened by the loss of two cameramen in a bomb blast in Pakistan. It's sad to lose these journalists who were on assignment to inform the public. The IFJ is seriously concerned about the safety situation of the journalists in Pakistan and urge the Pakistani government to improve the security situation to ensure no more casualties, and carry out all necessary measures to punish those responsible for the blast."
Written By

IFJ Asia-Pacific
The IFJ represents more than 600,000 journalists in 140 countries.
For further information contact IFJ Asia-Pacific on +61 2 9333 0946
Find the IFJ on Twitter: @ifjasiapacific
Find the IFJ on Facebook: www.facebook.com/IFJAsiaPacific
Comments